Voters throughout the country turned out in record numbers for the 2020 November election. The high voter turnout is notable considering there were so many safety questions with in-person voting due to the coronavirus pandemic. Most states expanded early voting and vote-by-mail options, and they worked! Voter turnout rates increased in all 50 states; the total number of votes cast was an all-time record; and the percentage of eligible voters casting a ballot was the highest since the presidential election of 1980.
NLIHC supported voter registration and voter turnout efforts through our nonpartisan Our Homes, Our Votes: 2020 project. More than ever before, housing organizations are recognizing that the movement for housing justice requires action around elections. Despite the challenges of the pandemic, 2020 saw tenant councils, housing providers, ballot initiative campaigns, advocacy groups, and service agencies all step up to increase voter participation of low-income renters. Learn more at: www.ourhomes-ourvotes.org
Elections have consequences, and there are new opportunities to move forward on housing justice solutions. NLIHC thanks everyone who played a role in turning out the vote.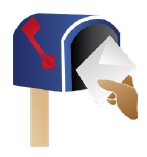 ​