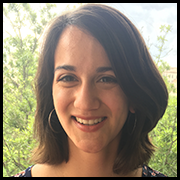 NLIHC bids farewell to Sonya Acosta, who served as a policy analyst and intern with the organization since 2017. Sonya leaves NLIHC to be a policy analyst at the Center on Budget and Policy Priorities, where she will continue to work on affordable housing issues.
Sonya is known to NLIHC members and Capitol Hill staffers for her knowledge of the federal budget and HUD programs that serve the lowest-income and most marginalized people. Among Sonya's many contributions at NLIHC was her work on federal affordable housing funding (including facilitating the Campaign for Housing and Community Development Funding), tribal and rural housing issues, fair housing, and the campaign to oppose to HUD's proposed mixed-status immigrant-family rule, among many others.
We will miss her tributes to Beyoncé, her love of New Mexico, and her  no-stress demeanor. Above all, the NLIHC board and staff appreciate her contributions to the Coalition and wish her well in her new endeavors.