The final FY'19 funding bill passed by Congress and signed by President Trump on February 15 includes $28 million for the Housing Choice Voucher Mobility Demonstration, which will provide voucher households with expanded access to communities of opportunity with stronger schools, better job prospects, and other resources.  This marks the first time Congress has funded a housing mobility initiative since the early 1990s.
In the fall of 2018, the Opportunity Starts at Home campaign's multi-sector Steering Committee urged Congress to invest in the mobility demonstration, citing research showing that when children in poor families grow up in neighborhoods with low poverty, quality schools, and low crime, they are significantly more likely to attend college, less likely to become single parents, and more likely to earn dramatically more as adults over the course of their lifetimes. Research also shows that low-income students perform better academically and close achievement gaps faster when housing assistance enables them to live stably in opportunity neighborhoods with lower-poverty schools. Such results help break cycles of generational poverty and produce a positive taxpayer return.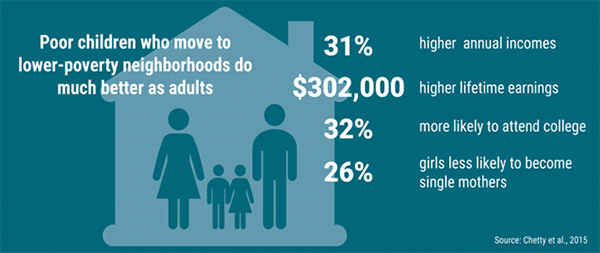 The Opportunity Starts at Home campaign members are pleased that this law has become a reality, and we will continue working to ensure that the demonstration is successful and helps inform broader improvements within the voucher program.
For more details on the demonstration, including next steps and timing, please check out the recent blog post by the Opportunity Starts at Home campaign's partner, the Center on Budget and Policy Priorities. 
Also, follow the campaign on all social media platforms: Twitter, Instagram, Facebook, and LinkedIn.  Be sure to sign up for our e-newsletter to get the latest updates about the campaign, including new multi-sector partners, calls to action, events, and research.