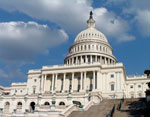 The House Committee on Appropriations approved by a voice vote its FY17 spending bill for the U.S. Department of Agriculture (USDA) on April 19. As we reported last week (see Memo 4/18), the bill would increase funding for USDA's Rural Housing programs by $31 million over FY16 levels.
The bill would fund the Section 521 Rental Assistance program at $1.41 billion for FY17, the amount requested by President Obama and $15.3 million more than was appropriated in FY16. The bill would also increase funding for the Section 515 Rural Rental Housing Loan Program and the Multifamily Preservation and Revitalization (MPR) program. The Section 515 program would see an increase of $6.6 million over FY16 and the MPR program would receive an additional $3 million for housing vouchers.
Given the fact that the House has still not approved its FY17 budget, it is unclear if and when the bill will reach the House floor.
Read the bill at: http://1.usa.gov/1SVFNDF 
Read a summary of the bill at: http://1.usa.gov/1QaoNHY 
See NLIHC's budget chart at: http://bit.ly/1SowzjU