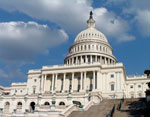 The House Appropriations Subcommittee on Agriculture, Rural Development, Food and Drug Administration approved its FY17 spending bill on April 13. The bill would increase funding for the U.S. Department of Agriculture (USDA) Rural Housing programs by $31 million over FY16 levels. During the vote, Subcommittee Chair Robert Aderholt (R-AL) and Appropriations Chair Hal Rogers (R-KY) both spoke about the importance of Rural Development programs, including rural housing, to ensure rural communities thrive.
The Section 521 Rental Assistance program would receive more than half of the proposed increase in funding. The bill would fund the program at $1.41 billion for FY17, the amount requested by President Obama and $15.3 million more than was appropriated for FY16. USDA Rural Development has taken steps to improve how it determines program costs and believes the amount requested by the Administration will be enough to renew all current contracts. Last year, Congress had to increase funding for the program in the FY16 omnibus spending package to renew all prior-year contracts.
The proposed bill would increase funding for the Section 515 Rural Rental Housing Loan Program and the Multifamily Preservation and Revitalization (MPR) program. The Section 515 program would see an increase of $6.6 million over FY16 and the MPR program would receive an additional $3 million for housing vouchers.
The House Appropriations Committee announced it will vote on the bill in full committee on April 19 at 10:30 am ET. The vote will be held in Rayburn House office building room 2359.
Read the text of the proposed bill at: http://1.usa.gov/1V4Pje2