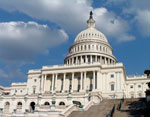 House Republicans have agreed on a plan to fund the federal government through March to avoid negotiating with President Obama over a final spending package for FY17. The stopgap spending measure, known as a Continuing Resolution (CR), will allow lawmakers to delay funding decisions until President-elect Donald Trump is sworn into office on January 20.  Mr. Trump's transition team had indicated to Congressional leaders that he would prefer them to pass a new CR, rather than a full-year spending package, so that he and his administration could have input on spending priorities.
House Appropriations Chair Hal Rogers (R-KY) stated, "I would have certainly liked to have finished up our bills, sure, and we were making good progress, but time is running out. And secondly, we thought it important that the new president have input on the spending plans." Mr. Rogers also stated that the CR will include many spending anomalies throughout the bill. An "anomaly," in the context of a CR, is a special provision addressing a particular program need.
Senators from both parties voiced objections to the House's proposal but did not threaten to block it from moving forward. Senate appropriator Lamar Alexander (R-TN) stated, "It's not my preference. I think that the Appropriations committees have done our job and we're ready to finish our work before Christmas. I would think the Trump administration would want to focus on the future rather than to work with us to clean up what we didn't get done this year."
Enacting another CR at FY16 levels could cause HUD and USDA Rural Housing to experience a shortfall in funding, forcing cuts to critical housing programs. More than 130,000 vouchers could be lost in FY17 if Congress ends up passing FY17 spending bills at FY16 levels.
Congress now has until December 9 to pass the short-term CR before the previous CR expires in order to avoid a government shutdown.