Across the 100 largest metro areas in the nation, housing near high-performing public schools cost an average of 2.4 times more than housing near low-performing public schools, according to a study from the Metropolitan Policy Program at Brookings.  Neighborhoods with high-performing schools have home values that are on average $205,000 higher, and these neighborhoods have roughly 30% fewer renters.  The study reveals that, though education is key to promoting better economic mobility, democratic engagement, and health, housing inequities frequently prohibit low income students from enrolling in the strongest schools. The study looked at student populations and standardized test scores for 84,077 schools.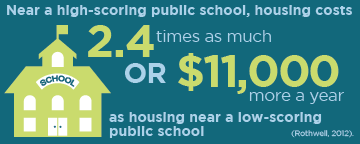 "As the nation grapples with the growing gap between rich and poor and an economy increasingly reliant on formal education, public policies should address housing market regulations that prohibit all but the very affluent from enrolling their children in high-scoring public schools in order to promote individual social mobility and broader economic security," states the study's author, Jonathan Rothwell. "Policy leaders have taken a number of steps over the past few decades to expand access to high-quality education for disadvantaged groups. . . . None directly addresses one of the central issues that limit educational opportunity for low-income and minority children: their disproportionate concentration in low-performing schools."
The study, which was the first to link zoning data with test-score data, also found that "large metro areas with the least restrictive zoning have housing cost gaps that are 40 to 63 percentage points lower than metro areas with the most exclusionary zoning." Reduced housing cost gaps would enable more low income families to afford to live in neighborhoods with the strongest schools, which would in turn improve educational attainment for low income children. 
The study provides further proof that housing policy is education policy, and that education advocates must be housing advocates. One of the great inequities of American education is that the quality of the schools children attend largely depends on the neighborhoods in which their parents can afford to live. A key strategy to improve student learning is to remove or weaken local policies that restrict affordable housing development in neighborhoods with the highest-performing schools.
Please follow the Opportunity Starts at Home multi-sector affordable housing campaign on all social media platforms: Twitter, Instagram, Facebook, and LinkedIn.