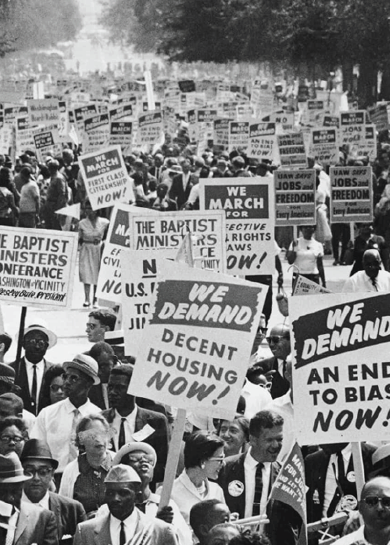 Under the Trump administration, several agencies, including HUD, introduced changes to policy that would harm low-income immigrant families. These regulatory changes would not help expand resources for U.S. citizens and others with eligible immigration statuses but would serve to prevent immigrants from accessing vital health, nutrition, and housing assistance, particularly children and elderly individuals. The COVID-19 pandemic has magnified the threats facing low-income immigrant families, placing an additional burden on families subject to the harmful policy changes.  
In 2019, HUD proposed changes to what is commonly known as the "Mixed-Status Families Rule". The proposed rule would bar families from receiving most forms of rental assistance if at least one person in the household is ineligible for assistance because of their immigration status - forcing families to split, forego assistance, or face eviction. HUD's own estimate showed that over 100,000 people could lose assistance due to this provision, including 55,000 children who are legal U.S. citizens and eligible for housing assistance. In fact, two-thirds of people in mixed-status families are already U.S. citizens, the majority of them children. 

The proposed rule would eliminate the option for families to receive prorated assistance, as is current HUD practice. Instead, the immigration status of all household members under the age of 62 would need to be verified through DHS's Systematic Alien Verification for Entitlements (SAVE) system. Those who cannot meet the new requirements would lose their rental assistance.  
According to the Center on Budget and Policy Priorities (CBPP) analysis of 2017 HUD administrative data, the rule would disproportionally harm Latino families, who make up 85% of people living in mixed-status families in the three largest rental assistance programs: Housing Choice Vouchers, Public Housing, and Section 8 Project-Based Rental Assistance. CBPP's analysis also showed that among the 9 million citizens currently receiving HUD rental assistance, those most at risk of losing assistance under this proposal are: 72% people of color, 62% female, 29% children, 22% people with disabilities, and 17% seniors.  
The Trump administration claimed the new policy would address housing assistance waiting lists, but the agency's own analysis found the proposed rule would result in fewer families receiving housing assistance. Because mixed-status families do not receive housing assistance for ineligible family members, taking assistance away from these households would require HUD to provide full subsidies for additional, non-mixed-status families, costing the government at least $193 million.  
In response to the proposed rule, NLIHC, the National Housing Law Project (NHLP), and other partners launched the "Keep Families Together" campaign to mobilize opposition. During the public comment period, individuals and organizations submitted over 30,450 comments; the previous time a HUD proposal garnered significant public attention resulted in just over 1,000 public comments. An NHLP analysis of these comments found that more than 95% of the comments opposed the rule.  A final version of this rule was never published to the Federal Register and we expect that the incoming Biden administration and HUD Secretary-designate Marcia Fudge will withdraw the rule.  
The latest coronavirus relief package allows mixed-status households with undocumented family members to receive stimulus checks, which they were denied under the CARES Act. However, the new bill continues to exclude families who file their taxes with an Individual Taxpayer Identification Number (ITIN) and roughly 2.2 million citizen children. While the inclusion of mixed-status families was an important next-step, more is needed.   
The Biden/Harris campaign has expressed its commitment to undoing damage from the Trump administration and protecting the rights of immigrants. The new administration and the 117th Congress must immediately:  
Enact comprehensive coronavirus relief bills that are inclusive of mixed-status and immigrant families.  
Address the needs of low-income immigrant families. 
Reverse harmful regulations and other policies that limit the access to the federal programs for which they are eligible.