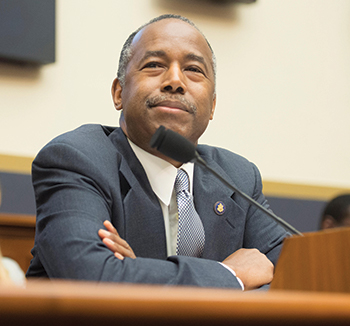 Washington DC, June 27 2018, USA: Dr Ben Carson, the Sec of Housing and Urban Development (HUD), testifies before a Congressional House committee in Washington DC. He was questioned about, among other issues, his proposed increase in rents to be paid by the poorest residents.  Patsy Lynch/Alamy
HUD, under Secretary Ben Carson, has launched three efforts to undermine fair housing.
HUD Attempts to Suspend Small Area FMR Rule
The first attack against fair housing was HUD's attempt to suspend the start of the Small Area Fair Market Rent rule for public housing agencies (PHAs) in 23 of 24 metro areas required to follow the rule.
Small Area FMRs (SAFMRs) reflect rents in ZIP Codes, while traditional fair market rents (FMRs) reflect a single rent for an entire metro region. A goal of SAFMRs is to offer households more choices when deciding where to live. Small Area FMRs can do this by increasing the value of a voucher in high-rent ZIP Codes, which can help households use their voucher in areas that have better schools, fewer environmental hazards, more job opportunities, and greater access to full-service grocery stores and other amenities.
Five civil rights organizations sued HUD, claiming that suspending the Small Area FMR rule violated Administrative Procedure Act (APA) rules requiring public comment and a legitimate reason for suspension. The Court agreed, HUD backed off, and PHAs in those 23 metro areas had to start using SAFMRs by April 1, 2018.
HUD Suspends the Affirmatively Furthering Fair Housing tool
The second attack was HUD's suspension of the Affirmatively Furthering Fair Housing (AFFH) tool that required about 1,200 local governments to conduct an Assessment of Fair Housing (AFH) using an ''Assessment Tool'' to help them obey the Fair Housing Act of 1968. Although the requirement to affirmatively furthering fair housing has been law since 1968, meaningful regulations never existed to provide guidance on how to comply until the AFFH rule was published in 2015.
HUD claims that the tool has flaws that get in the way of local governments completing their assessments of fair housing (AFHs). But HUD based its action on the experience of only the first 49 AFHs submitted. Eighteen of the 49 were accepted by HUD when first submitted and 32 were ultimately approved. The AFFH rule has a process for HUD to point out shortcomings in an AFH and for jurisdictions to fix them. The problems some jurisdictions had with the tool could have been easily fixed this way. 
Because HUD suspended the AFFH tool, jurisdictions must go back to the failed Analysis of Impediments (AI) to fair housing process. The AI process merely requires a jurisdiction to pledge that it is affirmatively furthering fair housing, which simply means figuring out what barriers prevent fair housing choice in a jurisdiction and taking appropriate actions to overcome the effects of any barriers. The AFFH tool was designed to address the many problems with the old AI process.
In response to HUD suspending the tool, three advocacy organizations sued HUD. However, the judge decided that the organizations did not have legal "standing" to sue. That allows HUD to go forward.
HUD is now preparing to propose a "streamlined" version of the AFFH rule that will probably weaken AFFH. NLIHC will keep you informed as this efforts unfolds.
"What is disparate impact? For many decades HUD interpreted the Fair Housing Act to prohibit housing practices that have a discriminatory effect, even if there was no obvious intent to discriminate."
HUD Considers Changing the Disparate Impact Rule
The third attack on fair housing is HUD's intent to revise the Disparate Impact rule. HUD is seeking public comment on whether the rule is consistent with the U.S. Supreme Court Inclusive Communities decision.
HUD agrees that the Supreme Court upheld the concept of disparate impact under the Fair Housing Act. However, HUD states that the Court did not directly rule on the regulation itself. Therefore, HUD wants public input on whether the regulation is consistent with the Court's Inclusive Communities ruling, especially as it relates to the insurance industry.
What is disparate impact? For many decades HUD interpreted the Fair Housing Act to prohibit housing practices that have a discriminatory effect, even if there was no obvious intent to discriminate. Eleven courts of appeals agreed. Because there were minor variations in how the courts and HUD applied the discriminatory effects concept, HUD proposed regulations to establish uniform standards. The Disparate Impact rule was finalized in February 2013.