Justice in Aging and NLIHC recently co-published an issue brief that explores how housing instability, housing unaffordability, and homelessness impact the low-income senior population. The issue brief examines: 1) the intersection of age/ethnicity on rental cost burden; 2) the disproportionate impact of housing cost burdens on older Black and Latino populations that are rooted in income inequality; 3) the nationwide shortage of affordable rental units; 4) an increase in seniors experiencing homelessness; and 5) housing and health policy solutions needed to solve this problem.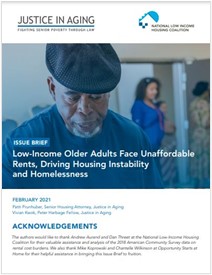 "Caught in the vise between their fixed, lower incomes and steadily rising costs for rental housing," the report states, "low-income seniors are facing unsustainable rent burdens, paying ever higher percentages of their meager incomes on housing. This untenable situation causes life-threatening stress and leads to people having to choose between paying rent, eating, or buying medications—while also increasing the risk they will be forced onto the streets."
Justice in Aging is a Roundtable participant of the Opportunity Starts at Home multisector affordable homes campaign.
Read the brief at: https://bit.ly/37tHQ3s
Follow the Opportunity Starts at Home campaign on social media: Twitter, Instagram, Facebook, and LinkedIn. Be sure to sign up for our e-newsletter to get the latest updates about the campaign, including new multi-sector partners, calls to action, events, and research.