The Opportunity Starts at Home multi-sector affordable homes campaign hosted a congressional briefing on September 18 featuring three of its Steering Committee members: Children's HealthWatch, Children's Defense Fund, and National League of Cities. The briefing, "Tackling America's Housing Crisis Through Cross-Sector Partnerships," showcased the overwhelming research that stronger investments in affordable homes would generate multiplying returns in health, child welfare, and local economies. Approximately 60 Capitol Hill staffers and advocates attended.  
Allison Bovell-Ammon, director of policy strategy at Children's HealthWatch, kicked off the first presentation with an exploration of how stable, affordable housing produces better individual health outcomes and reduces overall healthcare costs for the nation. Ms. Bovell-Ammon highlighted, as an example, the graph below showing the total cost of caring for a patient at Boston Medical Center. Prior to January 2018, the patient was experiencing homelessness but was also receiving health and other services. The total costs of his inpatient, outpatient, and pharmacy care while he was homeless was very high. In January 2018, however, the patient finally got access to stable, affordable housing and his healthcare costs dropped significantly and immediately, consistent with what "Housing First" research has consistently found.
"We know we need to produce more housing," said Ms. Bovell-Ammon. "We need more rental subsidies. And we call on the government to help our patients and help our entire well-being."
Zach Tilly, policy associate at Children's Defense Fund, then presented the findings of his organization's recent report that examined nine programs for low-income families (housing subsidies; subsidized jobs; the Earned Income Tax Credit; an increased minimum wage; childcare subsidies; a refundable Child and Dependent Care Tax Credit; SNAP benefits; a refundable Child Tax Credit; and reformed child support) and their potential to reduce child poverty. The study found that expanding housing vouchers would have the single largest impact among the nine policies, reducing child poverty by 22% and lifting 2.1 million children out of poverty.
"The single most effective way to reduce child poverty is expanding affordable housing resources like vouchers," Mr. Tilly said.
Mike Wallace, program director on community and economic development at the National League of Cities (NLC), closed by presenting the findings of NLC's recent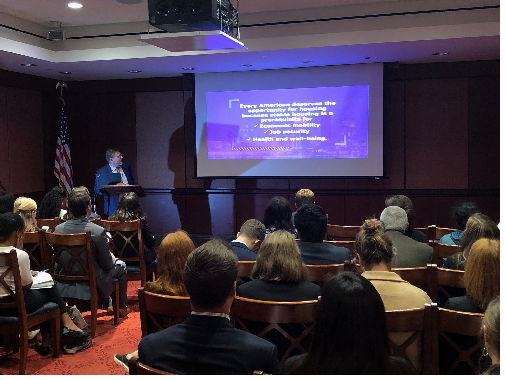 report, "Homeward Bound." Over 20 elected officials and local leaders from across the country developed local and federal policy recommendations to solve the housing affordability crisis.
"If you are a city with major housing instability problems, you're also going to have problems with job security, health and well-being, and upward mobility," Mr. Wallace said.
Watch the full congressional briefing at: Part 1 and Part 2
Also, follow the Opportunity Starts at Home campaign on all social media platforms: Twitter, Instagram, Facebook, and LinkedIn.  Be sure to sign up for the campaign e-newsletter to get the latest updates about the campaign, including new multi-sector partners, calls to action, events, and research.