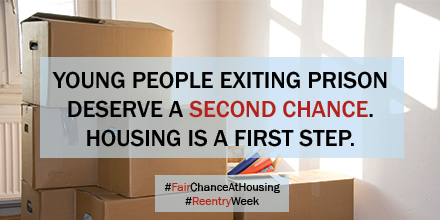 NLIHC and several partner organizations are launching a social media campaign during the week of April 24-30—which the Department of Justice has designated "National Reentry Week"—to raise awareness about the value of supporting the successful reentry of the more than 600,000 individuals who return to our communities each year after serving time in prison.
Many individuals with criminal records face various forms of discrimination and barriers to reentry, notably the denial and lack of access to affordable housing. Resources, especially affordable housing, are already scarce in the low income communities where formerly incarcerated persons typically return. And former inmates are often denied housing because of their criminal records, placing them at risk of housing instability, homelessness, and recidivism.
We invite you to join our Reentry Week social media campaign to raise awareness about the housing needs of formally incarcerated people and the challenges and consequences they experience in trying to secure a stable place to call home. The campaign will dispel stereotypes attached to people with criminal records and advocate that everyone deserves fair treatment and a second chance once they have served their time.
We will promote and share with you the different activities our partners, the Administration and Members of Congress plan to participate in during Reentry Week, including webinars, blogs, and events. We also invite you to join us on Twitter, using the hashtags #ReentryWeek and #FairChanceAtHousing.
Information about National Reentry Week can be found at: http://1.usa.gov/1VFlMX0