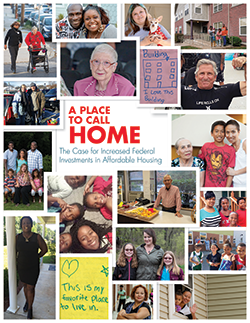 A Place to Call Home: The Case for Increased Federal Investments in Affordable Housing, a new report released by the Campaign for Housing and Community Development Funding (CHCDF) and NLIHC, compiles the latest research showing how investments in affordable housing boost economic mobility, reduce poverty and homelessness, improve health outcomes, and strengthen the economy. The report includes more than 100 success stories of people and communities that have been positively impacted by federal affordable housing investments funded through HUD and USDA.
NLIHC, which coordinates and facilitates CHCDF, prepared this report in response to the threat of significant budget cuts to HUD and USDA programs in FY18. The report calls for Congress to lift the Budget Control Act spending caps set to resume in FY18, while maintaining funding parity between defense and non-defense programs, and to ensure the highest level of funding possible for affordable housing programs. "There is an overwhelming need for affordable homes in every state and congressional district," said Elayne Weiss, NLIHC senior policy analyst and principal author of the report. "Cutting investments in affordable housing will only make it harder for people with the greatest needs, including low income seniors, people with disabilities, veterans, and working families with children, to have an affordable and accessible place to call home."
The Place to Call Home report compiles funding data by state from HUD and USDA into one document and estimates the number of local jobs supported by HUD investments in each state. According to the report, investing in affordable housing strengthens the economy and supports job creation and retention. The report estimates that more than 500,000 jobs were supported through HUD investments in 2015 alone.
Diane Yentel, president and CEO of NLIHC, urges Congress to consider this report and the millions of lives in their districts that have been positively impacted by federal investments in critical programs before making any decisions about the upcoming budget. "While we need to address our nation's deficit over the long-term, we cannot and should not balance the budget by reducing necessary and important investments that serve people with the greatest needs." Ms. Yentel said. "Reducing federal investments in affordable housing will have a negative domino effect throughout many communities and the economy."
Affordable housing advocates are urged to contact your members of Congress and tell them to protect vital affordable housing, community development, and homelessness prevention programs from harmful spending cuts. 
Contact your members of Congress at: http://bit.ly/2lBR7eM
A Place to Call Home: The Case for Increased Federal Investments in Affordable Housing is at: http://bit.ly/2ljnEed
To read all of the success stories from this report, go to: http://bit.ly/2miFZaH
Authors of this report will share their findings on a webinar, March 6, 3 pm - 4 pm ET. Register for the webinar at: http://bit.ly/2lYo20S