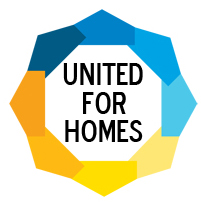 United for Homes (UFH) endorsers are invited to join a webinar, "Direct Action and the United for Homes Campaign: Disruption and Agitation in the Effort for MID Reform," on Tuesday, July 18 at 2 pm ET. Presenters from NLIHC and a number of UFH endorsing organizations will discuss the importance of involving funding solutions like MID reform in local efforts that draw attention to the homelessness and affordable housing crisis in America.
Direct action has long played an important role in the movement for change to housing policy. Whether a moderate-scale action like a local sleep-out during Hunger & Homelessness Awareness Week or a major event like the Housing Now! march on Washington in 1989, public acts of resistance and disruption can increase the profile of affordable housing in policy debates.
The webinar will feature Randy Shaw, editor of Beyond Chron and the director of San Francisco's Tenderloin Housing Clinic, a United for Homes endorser. Mr. Shaw is the author of four books on activism, including The Activist's Handbook: Winning Social Change in the 21st Century and The Tenderloin: Sex, Crime and Resistance in the Heart of San Francisco. During the webinar, Mr. Shaw will discuss the importance of direct action throughout the history of housing policy change in America.
Michael Kane, executive director of the National Alliance of HUD Tenants will also present. Mr. Kane has been organizing residents of project-based rental assistance and other federally-assisted properties for decades. He will speak to the power of involving low income renters and their perspectives in all protests, rallies, and other direct actions.
UFH webinars highlight best practices for advocacy and provide a broader understanding of how mortgage interest deduction reform is helpful to social movements focused on more than just housing. The most recent webinar in June, "Housing, Racial Equity, and United for Homes," provided campaign overviews and perspectives from endorsers who work on social justice for communities of color. Anj Chaudhry from the National Coalition for Asian and Pacific American Community Development, Lot Diaz from the National Council of La Raza, and Pinky Clifford from the Oglala Sioux Tribe Partnership for Housing shared information about how United for Homes would benefit the communities in their networks. Watch the June webinar at: http://www.unitedforhomes.org/webinars/
Future webinars will feature guest experts, policymakers, advocates, and researchers on topical issues. All UFH webinars are available on the UFH website at: http://www.unitedforhomes.org/webinars/
If you have not already registered for the monthly UFH endorser webinars, register for the July 18 event at: http://bit.ly/2irHS2E. Once you register, you will not need to register again for the monthly UFH endorser webinars.
If you are not already a UFH endorser, please join the campaign at: http://www.unitedforhomes.org/join-the-movement/
If you are not sure if you are a UFH endorser, check the list of current endorsers at: http://www.unitedforhomes.org/national-supporters/