A new Ken Burns Film, "East Lake Meadows: A Public Housing Story," along with the film's directors Sarah Burns and David McMahon and a resident featured in the film, will be showcased at NLIHC's Housing Policy Forum 2020: Ending Homelessness and Housing Poverty in Washington DC, March 25-27, and at other locations around the country for those who cannot attend the Policy Forum. Register for the Forum today!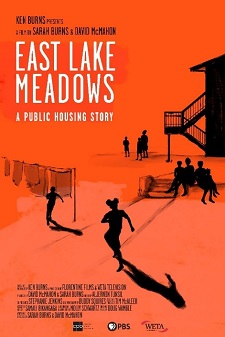 "The documentary tackles the impact of racism on public housing while also exploring the daily lives of those who called East Lake Meadows home," states a press release from PBS, which will broadcast the film in March.
In October of 1970, the Atlanta Housing Authority opened a public housing community on the edge of Atlanta called East Lake Meadows. Over the next 25 years, many thousands of low-income Atlantans, mostly African-American, would call it home.
Residents moved in for hundreds of different reasons and created strong bonds despite the many challenges they faced. But as public housing in America was abandoned and stigmatized, and a crack wave swept through the neighborhood, East Lake Meadows became nearly uninhabitable. In the mid-1990s, Atlanta bulldozed the housing project to make way for new mixed-income housing, as government and philanthropic funds poured in.
| | |
| --- | --- |
| | |
  At NLIHC's March 25-27 Housing Policy Forum, the film's directors will present a 45-minute, professionally produced summary version of the film, followed by a panel discussion with the film's directors, one of the residents featured in the film, and a policy expert to talk about what it all means for policy advocacy.Through the stories of former residents, the film gives voice to some of the most marginalized people in our society and raises critical questions about how we as a nation have created concentrated poverty and limited housing opportunity for African Americans, and what can be done to address it. Executive-produced by Ken Burns, "East Lake Meadows: A Public Housing Story" is a feature-length documentary that will air on PBS on March 24.
If you cannot make it to the NLIHC Housing Policy Forum, the film will be previewed at other locations around the country. Those locations and links to register for them are:
Some essentials about the NLIHC Housing Policy Forum:
When: The Forum begins for most participants (see note about special Resident sessions below) on Wednesday, March 25 at 1:00 pm, with a full day of sessions on Thursday, March 26. Capitol Hill Day will take place on Friday, March 27.
Additional Sessions for Resident Leaders:  NLIHC will offer additional sessions for resident leaders starting on Tuesday, March 24, at 2:00 p.m., including a dinner with state partners that evening. The special resident sessions will continue on Wednesday, March 25 at 8:30 a.m. prior to the full Forum start at 1:00 p.m.
Register for the 2020 NLIHC Housing Policy Forum at: https://bit.ly/2V6Np2d