NLIHC updated its emergency rental assistance programs on August 3 and developed new resources for readers, including through an interactive map and searchable database. A webinar on August 19, 1-2 pm ET will discuss the new tools. As of August 3, NLIHC was tracking 271 local and state emergency rental assistance programs enacted in almost every state.
The map displays only one rental assistance program per locality or state. While most jurisdictions have only one program, some localities/states have several, and the database, searchable by state, is a better tool to examine jurisdictions with multiple programs. Note that this is not a comprehensive list of all rental assistance programs as NLIHC staff continue to update this database frequently. If readers are aware of a program not included in our database, please contact Rebecca Yae at: [email protected]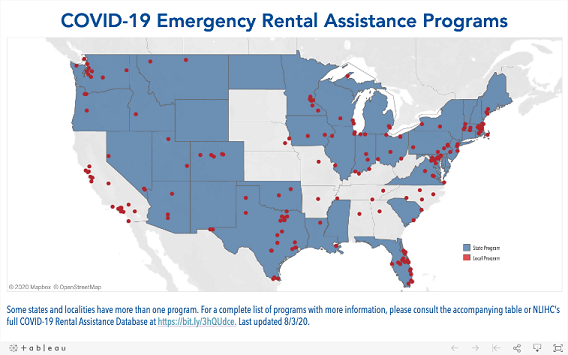 ​
The most common eligibility requirements for rental assistance include demonstrated COVID-19 hardship, income, and proof of residency within a jurisdiction. Many programs require significant documentation to prove COVID-19 hardship, and only 22 programs accept self-certification. The high documentation burden excludes renters who work in the informal economy, as well as renters with limited technological resources at a time when public resources such as libraries are rendered unavailable. Only 27% of programs using area median income (AMI) set their threshold at or below 60% AMI; an additional 55% of programs used eligibility thresholds between 60% and 80% of AMI. In nearly two in three programs, landlords are required to participate in some form or at least provide a W9. One in three programs ask landlords to meet other requirements or concessions, such as not evicting tenants within a certain timeframe or agreeing to forgive a share of rent. In these cases, renters cannot receive assistance if landlords refuse or simply fail to respond in a timely manner.
The need for rental assistance programs far outstrips the resources currently available. Current programs fail to provide assistance for an adequate length of time. Nearly nine in ten programs are designed for short-term relief of three months or less. Despite COVID-19's duration thus far of five months and likely much longer, only three programs provide support for longer than six months. Due to limited funding, many programs are forced to choose which recipients will receive aid. More than four in ten programs opt to use first-come, first-served as their selection system. While this selection system may reduce administrative burden, it also tends to benefit renters who are better connected and have resources to apply quickly. Another 17% of programs use lottery systems to choose which recipients will receive aid. Furthermore, due to high demand, nearly one in four programs (65) have already closed, 26 of which closed in a week or less. These closed programs indicate that approximately $425 million are fully exhausted, though additional funding has likely been exhausted as open programs continue to disburse their funding.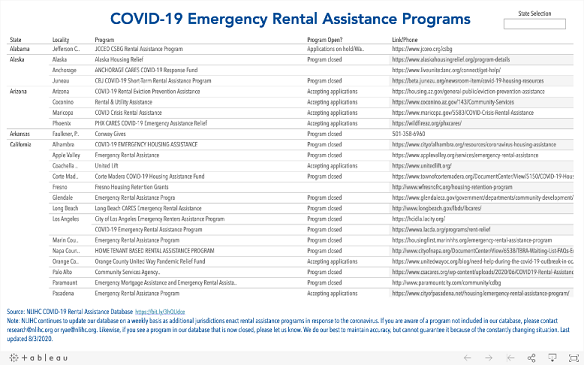 ​
For the latest information, watch the recording from the August 19, 1-2 pm ET webinar, "Emergency Rental Assistance in Response to COVID-19: Themes, Challenges, and Early Lessons Learned." The webinar highlighted common themes and challenges of rental assistance programs across the U.S. In addition, the session shared early lessons learned and successes in designing and implementing programs from a variety of perspectives.
Watch this webinar at: https://bit.ly/3kYDczv