Join Nikole Hannah-Jones, Pulitzer-Prize-winning author and creator of the New York Times Magazine's "The 1619 Project," and Marla Newman, NLIHC board chair, for a conversation on "Racial Equity and Housing Justice during and after COVID-19" on July 7 at 2 pm ET. Register today for this live-stream event at: https://bit.ly/3ew4Znc. Be sure to submit questions for Nikole through the registration page or via social media using #RacialEquityandCOVID.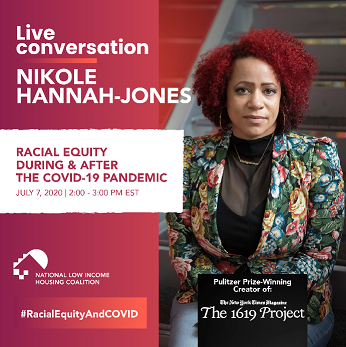 "Education and housing are the two most intimate areas of American life, and they're the areas where we've made the least progress."
— Nikole Hannah-Jones
Nikole Hannah-Jones covers racial injustice for The New York Times Magazine and has spent years chronicling how official policy has created—and maintains—racial segregation in housing and schools. Her deeply personal reports on the black experience in America offer a compelling case for greater equity. Ms. Hannah-Jones is creator and lead writer of the New York Times' multimedia initiative, "The 1619 Project." Named for the year the first enslaved Africans arrived in America, the project features an ongoing series of essays and art on the relationship between slavery and everything from social infrastructure to segregation, music to sugar—all by Black American authors, activists, and journalists. Hannah-Jones wrote the project's introductory essay under the powerful headline, "Our Democracy's Founding Ideals Were False When They Were Written. Black Americans Have Fought to Make Them True." The essay earned her a Pulitzer Prize for commentary.
Nikole was named a MacArthur Genius for "reshaping national conversations around education reform," and has won a Peabody Award, a Polk Award, and, for her story on choosing a school for her daughter in a segregated city, a National Magazine Award. NLIHC bestowed its 2013 Media Award to Ms. Hannah-Jones and Jeff Larson of ProPublica for their series, "Living Apart: Fair Housing in America." The NLIHC Media Award recognizes journalists who have made a dedicated effort to inform the public about the inequities in housing and to add to the understanding of the disparities between the well-housed and the poorly or un-housed. "Living Apart" was an investigation into housing discrimination and housing segregation in the U.S., as well as into the shortcomings of fair housing laws.
Nikole Hannah-Jones's perspective is critically important today, as police brutality towards Black Americans and the disproportionate impacts of the COVID-19 pandemic on people of color reveal in stark relief our nation's historical and ongoing systemic racism. Her deep understanding of how our country's housing injustice is driven by and fuels structural racism makes hers an essential voice during this critical moment.
Join us for a conversation with Nikole Hannah-Jones on "Racial Equity and Housing Justice During and After COVID-19" on July 7 at 2 pm ET. Register at: https://bit.ly/3ew4Znc
(Please note: No video recording of this live-stream event will be available for viewing after the event.)