NLIHC will honor long-time affordable housing leader Ann O'Hara at our 40th Annual Housing Leadership Awards Celebration, which will be held virtually on Thursday, April 28, at 4 pm ET. Ann will receive the Dolbeare Lifetime Service Award – named for NLIHC's founder Cushing Niles Dolbeare, a pioneer of the affordable housing movement – for Ann's decades of advocacy for quality, accessible, affordable homes for extremely low-income households as a public housing authority director, Section 8 administrator, state housing official, founder and associate director of the Technical Assistance Collaborative (TAC), and NLIHC board member. Other honorees will be Representative Ritchie Torres (D-NY) and the Congressional Progressive Caucus. Register to attend here, and donate to NLIHC as an individual or as an organization in recognition of these exceptional leaders.
In the 1970s and 80s, as the rental assistance director and then executive director at the Concord Housing Authority in Massachusetts, Ann played a key role in increasing the supply of affordable housing for very low-income households by 500% through innovative uses of town-owned property and town-funded construction, scattered-site family housing, frail-elderly supportive housing, and rental assistance. As the director of rental assistance and then assistant secretary of the Massachusetts Executive Office of Communities and Development in the late 80s and early 90s, Ann oversaw approximately 50,000 state-wide federal and state-funded rental subsidies; developed and managed a five-year state-wide cross-sector initiative providing over 15,000 families without homes permanent affordable housing through state- and federally funded rental assistance programs; and developed and implemented ground-breaking multi-sector policies and five new state rental assistance-funded permanent supportive housing initiatives targeting 2,000 marginalized individuals and families, including people with mental illness, people recovering from substance abuse, people with HIV/AIDS, and victims of domestic violence.
With her husband Steve Day and colleague Martin D. Cohen, Ann co-founded in 1993 – with a grant from the Robert Wood Johnson Foundation – and then led the Technical Assistance Collaborative (TAC), a non-profit dedicated to helping our nation's human services, health care, homelessness, and affordable housing systems implement policies and practices that empower people to live healthy, independent lives in the communities they choose. During her more than two decades at TAC, Ann assisted approximately 20 states and hundreds of localities to expand affordable and permanent supportive housing for extremely low-income households. With funding from the Melville Charitable Trust, Ann partnered with the D.C.-based Consortium for Citizens with Disabilities (CCD) and Congressman Rodney Frelinghuysen to obtain more than 80,000 new HUD rental subsidies for people with disabilities. Working with then-Congressmen Barney Frank and Christopher Murphy, Senator Robert Menendez, and the CCD, Ann led efforts to modernize and reform HUD's Section 811 Supportive Housing for Persons with Disabilities program through the enactment of the Frank Melville Supportive Housing Investment Act of 2010. In addition, Ann led successful efforts to create 3,000 new permanent supportive housing opportunities in response to the devastation in Louisiana caused by Hurricane Katrina.
Ann also provided invaluable leadership to NLIHC as a member of the NLIHC board of directors from 2012 to 2021.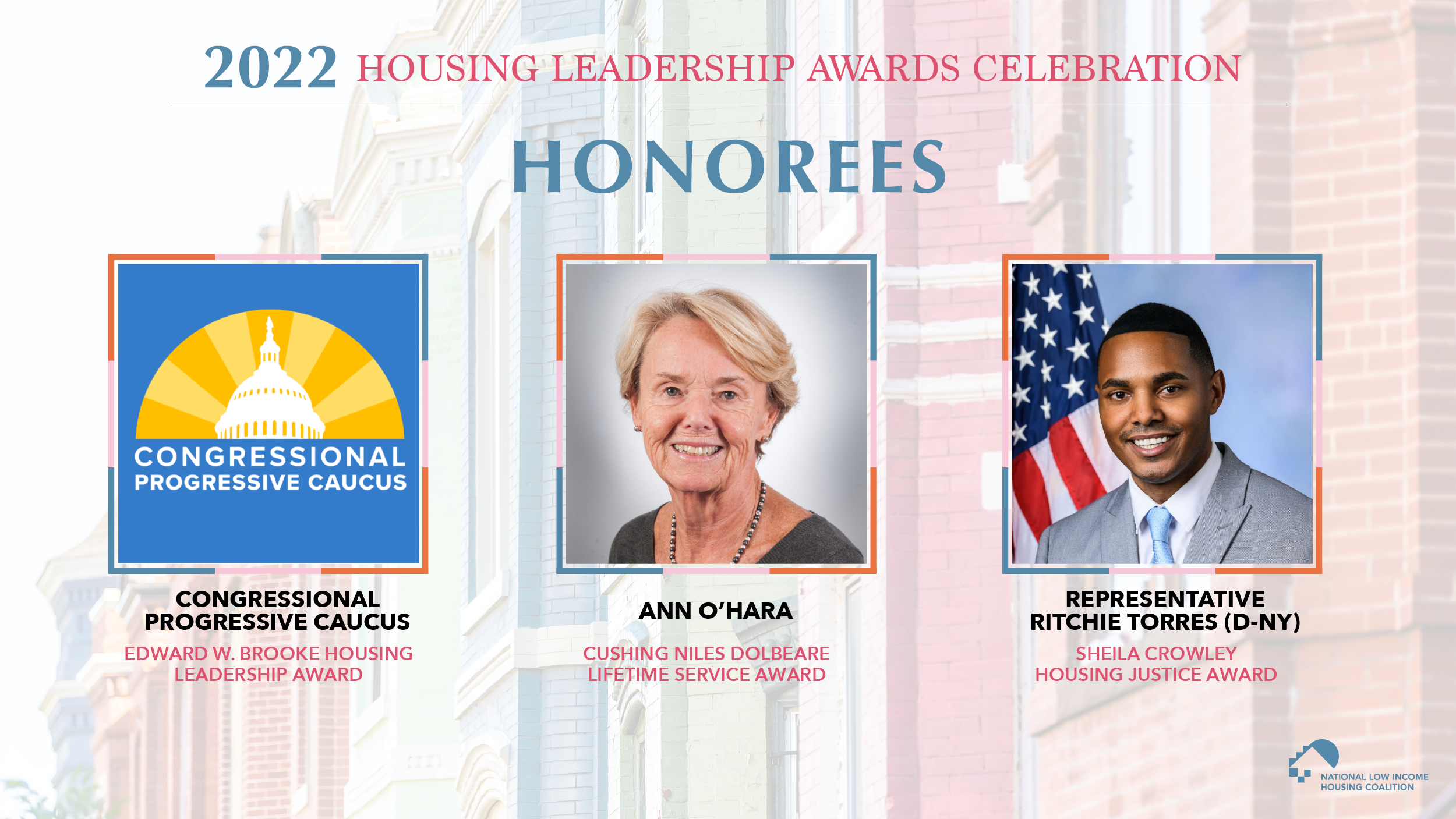 In addition to recognizing Ann, NLIHC will honor Representative Ritchie Torres (D-NY) with the Sheila Crowley Housing Justice Award for his outstanding leadership in elevating the need for historic affordable housing investments for people with the lowest incomes in 2021. The 2022 Edward W. Brooke Housing Leadership Award, named after the late senator from Massachusetts and former NLIHC board chair who was a strong leader for affordable housing throughout his career, will be presented to the Congressional Progressive Caucus for its exceptional commitment to advancing historic affordable housing investments to address homelessness and housing poverty in the U.S. 
Recognize these outstanding leaders by donating to NLIHC in their honor!
Donate and learn more about the event at: https://bit.ly/LEADERS22
Or text LEADERSHIP to 41444 to donate in honor of the awardees.
Your donation will be recognized in the Leadership Awards Celebration program, and your contribution will support NLIHC's mission to achieve racially and socially equitable public policy that ensures people with the lowest incomes have quality homes that are accessible and affordable in communities of their choice. Registration to attend the Housing Leadership Awards Celebration will be forthcoming.
Updates will be posted on the event page at: https://bit.ly/LEADERS22