NLIHC released the week of March 19 two new resources: Tenant Talk: Housing is Built with Ballots, a publication for low income residents, and Advocates' Guide 2018: A Primer on Federal Affordable Housing & Community Development Programs, a comprehensive guide for advocates and others involved virtually any aspect of affordable housing and community development.
The winter edition of Tenant Talk addresses voting rights; the importance of participation, particularly by low income renters, in local, state, and national elections; and how tenants can engage is non-partisan voter registration, education, and mobilization. This Tenant Talk includes articles on recent organizing victories in which residents played a key role, policy updates on issues of interest to residents, updates on disaster housing recovery efforts, and on resident perspectives on a host of issues. It also provides information on how to get involved in this year's "Our Homes, Our Votes" National Housing Week of Action, May 1-8.     
The Tenant Talk authors and editorial board make it clear that the biggest opportunity to effect change after a challenging year of threats to affordable housing programs is by voting in the upcoming primary and mid-term elections. In 2018, voters will make decisions about 36 governors, 34 senators, and all the U.S. House of Representatives. This edition of Tenant Talk stresses the importance of voter turnout especially from low income residents; voting is the best way for low income renters to augment their power as a valuable constituency.
You can download Tenant Talk online or sign up to have it delivered to your door for free if you are an NLIHC member. Become a member today at: www.nlihc.org/membership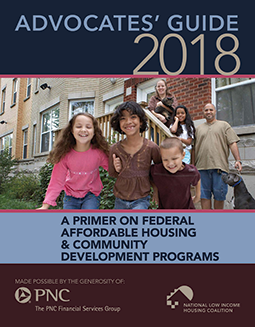 Advocates' Guide 2018: A Primer on Federal Affordable Housing & Community Development Programs is this year's edition of NLIHC's comprehensive resource about virtually every affordable housing program and policy. The Guide, written by NLIHC staff and other leading experts in the field, contains synopses of housing and community development programs, laws, and regulations, as well as tools and information to guide advocates' communications with legislative and executive branches of government and to mobilize advocacy campaigns. The Advocates' Guide is an invaluable resource for anyone involved in or concerned about affordable housing and community development – to refresh your familiarity with housing programs, statutes, and regulations or to educate new employees working at affordable housing and community development agencies and organizations.
Advocates' Guide 2018 was made available first in print to attendees of the NLIHC 2018 Housing Policy Forum: Building the Movement, March 19-21. It is now available online to the public.
Tenant Talk: Housing is Built with Ballots is available at: https://bit.ly/2IMgRlB
The Advocates' Guide 2018: A Primer on Federal Affordable Housing & Community Development Programs is available at: http://nlihc.org/library/guides