NLIHC released on October 17 the fall 2019 edition of Tenant Talk: Protecting Public Housing from Political Storms, a publication dedicated to low-income residents and their allies. This newest edition focuses on the issues faced by public housing residents, the history of public housing in the U.S., new threats to the program, and opportunities to protect and expand this critically important affordable housing program.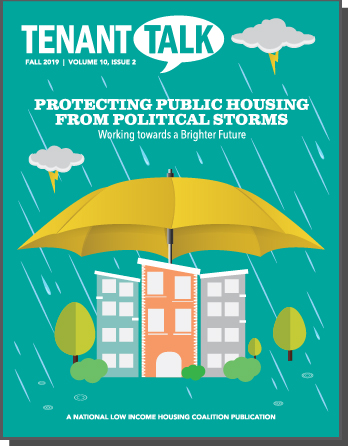 This Tenant Talk describes the various ways the federal government is "repositioning" public housing through the Rental Assistance Demonstration (RAD), demolition/disposition, and voluntary conversion of public housing to project-based vouchers, and how such efforts could impact public housing residents. The publication reviews the required renter protections under RAD and other repositioning measures and provides guidance to residents on how to ensure those protections are provided and how to advocate for safe, affordable, and accessible public housing into the future.
Readers are provided an overview of the history of public housing and its segregationist beginnings, from the first development in Atlanta and public housing's subsequent growth during the New Deal to its evolution in in the 1940s-1960s, the Nixon moratorium in the 1970s, and new threats today. This history shows public housing's challenges are due to political choices rather than the nature of the program.
As always, Tenant Talk spotlights organizing victories achieved by residents and advocates, focusing in this edition on New York and Nebraska. There are perspectives of low-income resident leaders in Florida and Oregon as well, including a new NLIHC board member's story of despair leading to activism. The issue also provides updates on public housing legislation on Capitol Hill and what resident-advocates can do to support positive policy changes.
Tenant Talk is available online at: https://bit.ly/2ZgnWTL, but if you would like to receive it for free through the mail, please fill out this quick and easy form to let us know how many copies you would like. Please share the form with others who might be interested.