NLIHC will release the 2018 edition of its annual report Out of Reach at 10:00 am ET on June 13. Out of Reach documents the gap between renters' wages and the cost of rental housing everywhere in the U.S.
The Out of Reach report shows the Housing Wage for every state, metropolitan area, and county in the country. The Housing Wage is the hourly wage a full-time worker must earn to afford a modest rental home without spending more than 30% of his or her income on housing costs. The report compares the Housing Wage to average renter wages and minimum wages, as well as wages in the fast-growing occupations, nationally. The report also shows how many hours an individual must work each week for all 52 weeks per year at the prevailing minimum wage to afford a modest one- and two-bedroom apartment at the Fair Market Rent. Out of Reach 2018 also provides Housing Wages for ZIP codes in metropolitan areas.
As part of the report's launch, NLIHC will host a TwitterChat on June 13 at 2:30 pm ET. A TwitterChat is a public discussion on Twitter around a specific hashtag. NLIHC will lead the TwitterChat using #OOR18 with the authors of the report. This is your opportunity to ask questions about Out of Reach and receive real-time answers from the experts. Engage with others to shed light on the tremendous mismatch between wages and the cost of rental housing in America.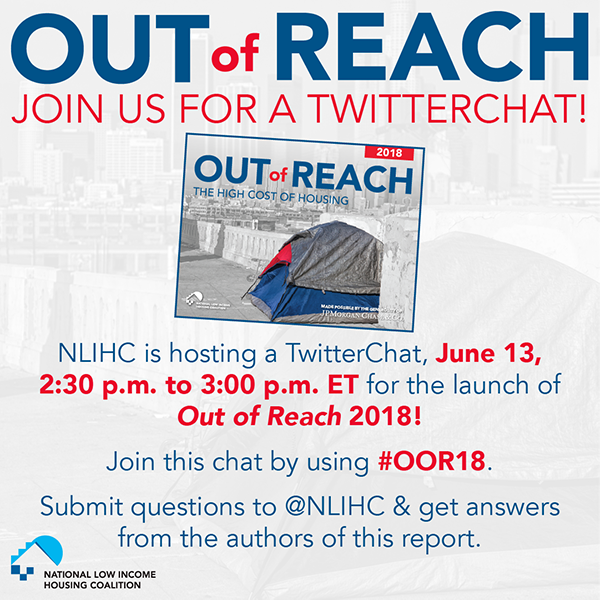 Submit questions through Twitter to @NLIHC or to Lisa Marlow at: [email protected]
The 2018 report and an interactive website with detailed data will be available at www.nlihc.org/oor after 10:00 am ET on Wednesday, June 13.