NLIHC released its Out of Reach 2016 report on May 25. This year the national two-bedroom Housing Wage, the hourly wage a full-time worker must earn to afford a modest two-bedroom apartment while spending no more than 30% of household income on rent and utilities, is $20.30 per hour. A household must have income of at least $42,240 per year in order to afford a two-bedroom unit at a HUD Fair Market Rent (FMR) of $1,056 per month. In 6 states and the District of Columbia, the Housing Wage exceeds $25 per hour.
Renter wages continue to fall short of housing costs. The average renter in the U.S. earns $15.42 per hour, $4.88 per hour less than the national two-bedroom Housing Wage and nearly $1 per hour less than the one-bedroom Housing Wage of $16.35 per hour. Someone earning the federal minimum wage of $7.25 would need to work 112 hours per week, or 2.8 full-time jobs, to afford a two-bedroom rental unit and 90 hours per week, or 2.3 full-time jobs to afford a one-bedroom unit. Even in states and localities with a minimum wage higher than the federal level, the minimum wage was less than the average one-bedroom housing wage.
Extremely low income (ELI) households, those with incomes at or below 30% of the area median income (AMI), comprise one out of every four renters and face daunting challenges finding affordable housing. Nationally, ELI renter households are only able to afford rents of $507 per month, far less than the monthly FMR for a two-bedroom unit of $1,056 or a one-bedroom unit of $850. As a result, 75% of ELI renter households - 7.8 million households - are severely cost burdened, spending more than half of their earnings on housing and utilities.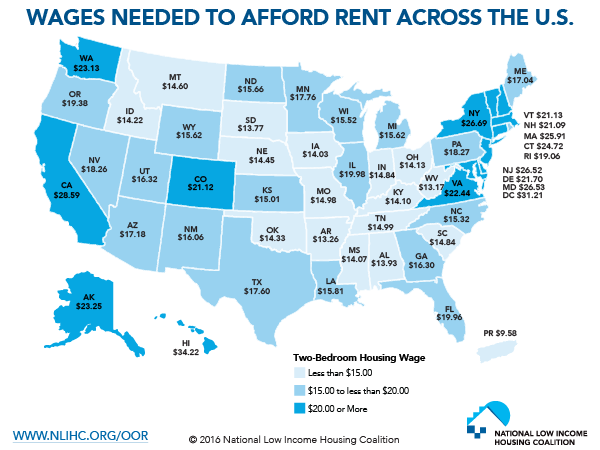 NLIHC released Out of Reach 2016 with a media call featuring HUD Secretary Julian Castro, who wrote the preface to this year's report, along with NLIHC President and CEO Diane Yentel and NLIHC Vice President of Research Andrew Aurand. Secretary Castro stated, "Our nation can't fulfill any of our major goals — whether it's tackling inequality, improving health care, keeping neighborhoods safe, or making sure every child gets a good education - unless we also focus on housing." Diane Yentel called for reform to the mortgage interest deduction and greater investment to the national Housing Trust Fund (HTF) to address the affordability crisis.
The Out of Reach 2016 website allows users to compare metro areas and counties within their state. The website also features an interactive map with housing affordability rankings for each state. The report has already attracted extensive media coverage, including by The Wall Street Journal, The Washington Post, The Chicago Tribune, NPR News, City Lab, and many others.
The Out of Reach 2016 website is at: http://nlihc.org/oor  
The full report is available at: http://bit.ly/1scAj1G