NLIHC Releases "Welcome to Vote Pledge" and Celebrates National Voter Registration Day
NLIHC's nonpartisan Our Homes, Our Votes campaign announced on September 20 the Welcome to Vote Pledge, a joint declaration among affordable housing providers that are committed to registering and mobilizing their residents to vote. An initial list of pledge signers included 22 organizations that collectively own or manage more than 257,000 units across 41 states, the District of Columbia, and the U.S. Virgin Islands. The launch of the pledge coincided with the tenth annual National Voter Registration Day, a national, nonpartisan civic holiday dedicated to celebrating our democracy by registering as many eligible Americans to vote as possible. The full text of the pledge can be found here.
Signers of the Welcome to Vote Pledge commit to integrating voter registration into the lease-up and income recertification processes at their properties, encouraging nonpartisan voter education and mobilization activities in the 2022 election cycle, and undertaking all voter engagement work in a fully nonpartisan manner and in compliance with all relevant state election laws.
"Through nonpartisan efforts to register and mobilize low-income renters and people experiencing homelessness to vote, we can further raise the profile of housing in the national conversation and continue to build the political will for bold solutions," said NLIHC President and CEO Diane Yentel. "As the Welcome to Vote Pledge demonstrates, many affordable housing providers are deeply committed to facilitating access to the ballot for all of their residents. We are grateful for their partnership on the nonpartisan Our Homes, Our Votes campaign's efforts to close the voter turnout gap between low-income renters and high-income homeowners."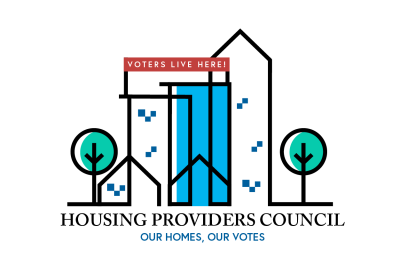 ​
Because renters move more frequently than homeowners, they must update their voter registration more often. This additional hurdle contributes to the gaps in voter registration and turnout rates between renters and homeowners, and – alongside transportation barriers, less flexible work schedules, strict voter identification laws, language barriers, polling place closures, voter purges, and other restrictive voter laws – even greater disparities between low-income and high-income people. The Our Homes, Our Votes campaign's Housing Providers Council, a nonpartisan coalition of affordable housing developers and property managers, offers tools and resources that empower housing providers to organize accessible voter registration opportunities and get out the vote. Housing providers that are interested in joining this initiative can sign up here.
In addition to releasing the Welcome to Vote Pledge, NLIHC also celebrated National Voter Registration Day by encouraging partners to ensure that they were registered to vote, leading a social media campaign to remind members of the public to register, and providing a list of ideas about how to participate in nonpartisan voter registration efforts around the country.
For inquiries about the Welcome to Vote Pledge, National Voter Registration Day, or Our Homes, Our Votes: 2022, please contact [email protected].