The Opportunity Starts at Home multisector affordable homes campaign hosted an April 11 congressional briefing on the results of a new public opinion poll on affordable housing in America with experts from Hart Research Associates. The briefing, "New Poll Shows Public Wants Congress to Tackle Housing Affordability Crisis," explored the polling results and the implications for federal policymakers, including specific policies and ways to effectively communicate about the need for action on housing affordability. 
Hart Research Senior Vice President Associates Rebecca Naser walked the audience through the full polling results, which showed that 85% of respondents believe affordable housing should be a top national priority. She discussed the strong majorities of Democrats, Republicans and independents who support an array of federal housing policy solutions like expanding rental assistance, increasing the supply of new affordable rental homes, and establishing an emergency assistance fund to help people prevent evictions and homelessness when people have an unexpected financial hardship.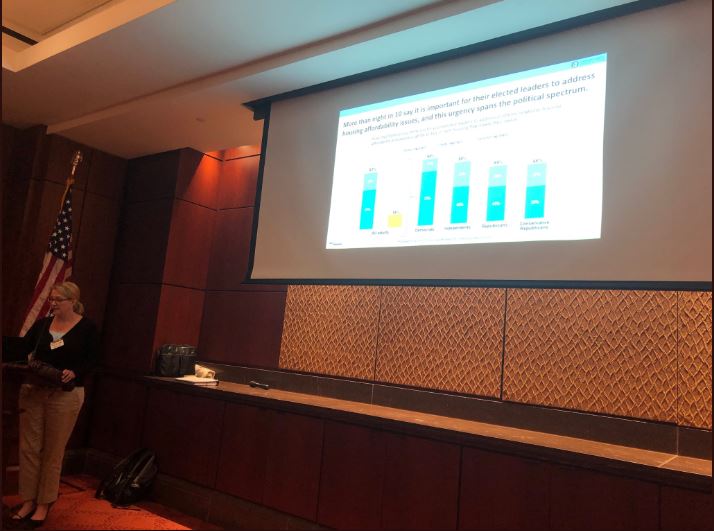 "Certainly, for housing advocates, the news is very good," said Rebecca Naser, Hart Research Associates senior vice president. "In this time that we live in, it's rare that you find issues where there is real common ground and a real common belief that action needs to be taken, and common belief in the solutions that are the most important.  What the survey reveals is that this is the case when it comes to housing affordability."
"We [Hart Research Associates] do a lot of polling on all kinds of different issues," said Ms. Naser.  "It's rare that we see numbers like this.  It's also rare to see this kind of support across the political spectrum. . . . And the public wants action at the federal level."
Watch the congressional briefing at: Part 1 and Part 2.
For more information on the results of the public opinion poll, check out the Opportunity Starts at Home website. 
Also, follow the campaign on all social media platforms: Twitter, Instagram, Facebook, and LinkedIn.  Be sure to sign up for the campaign e-newsletter to get the latest updates about the campaign, including new multi-sector partners, calls to action, events, and research.