The third annual Our Homes, Our Voices National Housing Week of Action proved to be another outstanding success with thousands of advocates like you lifting their voices for affordable homes. Residents, organizations, and elected officials gathered at more than 120 events across 34 states, Puerto Rico, and Washington, DC. Events included rallies, public forums, letter-writing to legislators, film screenings, press conferences, a national tweetstorm and call-in day, and more. Here are some of the highlights from the week and information about how to stay involved in the movement to end housing poverty and homelessness in America.
Above: Connections for the Homeless hosted a table at the Evanston IL Farmer's Market where people filled out 200 postcards to their members of Congress (top left). Prosperity Indiana and the Coalition for the Homelessness Intervention and Prevention held a press conference and community conversation "Confronting a Hoosier Housing Crisis" (top right). Veterans in Toledo joined the Coalition on Homelessness and Housing in Ohio (COHHIO) in a conversation about the importance of affordable homes (bottom left). The Massachusetts Coalition for the Homeless gathered with local residents to write letters to members of Congress and state legislators asking for an increase in funding for solutions to end homelessness and housing instability (bottom right).  
| | |
| --- | --- |
| | |
Above: The New York Housing Conference members visited RiseBoro senior centers where seniors wrote letters to their members of Congress and shared their stories that were then posted to Twitter during the National Week of Action Twitterstorm (left). Arizona Housing Coalition held a press call followed by a public-comment writing effort to speak out against HUD's proposed mixed-status immigrant-family rule and proposed changes to its Equal Access Rule (right).
Below: The Housing Network of Rhode Island, Signs of Providence, Homes RI, and Rhode Island Coalition for the Homeless held a screening of the film Providence Lost followed by a panel discussion with the filmmaker, local advocates, and former low-income Providence residents (left). The Greater New Orleans Housing Alliance (GNOHA) and HousingNOLA hosted a press kick-off event for Week of Action (right).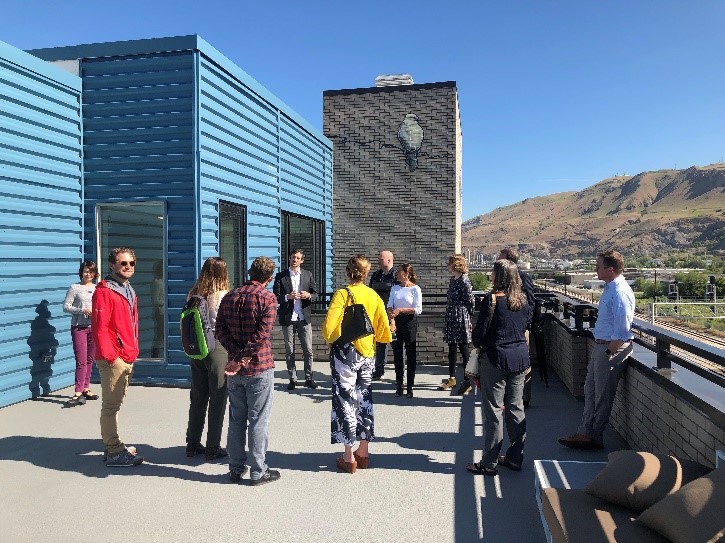 The Utah Housing Coalition facilitated tours of mixed-income and creative affordable housing developments.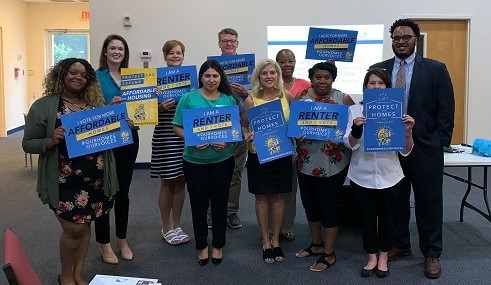 North Carolina housing and homelessness advocates gathered in Rowan County for a screening of Invisible Class with a discussion about federal affordable housing advocacy led by NLIHC afterwards.
Below: Local community leaders and advocates from Miami Dade County rallied for decent, safe, and sanitary housing.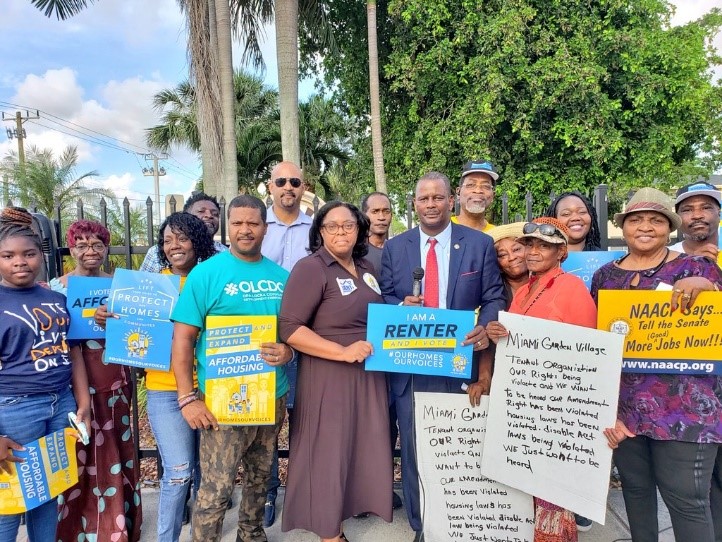 Throughout the week, advocates called on members of Congress to make bold investments in affordable homes through letter-writing, phone calls, press conferences, and social media.
Legislators responded with proposals such as Representative Alma Adams's (D-NC) call for a constitutional amendment recognizing housing as a fundamental right, Representative Barbara Lee's (D-CA) "Housing Bill of Rights," and Senator Corey Booker's (D-NJ) bold, new affordable housing plan (see separate article in this Memo to Members and Partners). Legislators such as Senator Catherine Cortez Masto (D-NV) and Representative Bill Foster (D-IL) attended Our Homes, Our Voices events and heard about the direct benefits of affordable homes in conversations with constituents. Members of Congress also joined advocates in the National Week of Action Twitterstorm to share their views and commitments to address the affordable housing crisis in America. 
Check out more Week of Action photos at: https://tinylink.net/dAqG9
Though the week is officially over, additional events will continue to take place over the next few days. The following are some additional upcoming events; remember to use #OurHomesOurVoices as you continue to share Week of Action photos and videos.
Panama City Beach, FL – The Florida Housing Coalition will be hosting a discussion with experts from across the country on innovative solutions and best practices for disaster housing recovery.
Minneapolis, MN – The Metropolitan Interfaith Council on Affordable Housing (MICAH) will showcase how people experiencing homelessness collaborated with the University of Minnesota School of Design to create tiny homes in the metro area.
Camden, NJ – The Community Planning and Advocacy Council will screen the film The Invisible Class followed by a brief community discussion.
Glen Burnie, MD – The Anne Arundel Affordable Housing Coalition will be hosting a presentation and discussion on housing market trends in the county.
Hurlock, MD – Homes for America will be hosting a phone bank for residents to reach their elected officials about the federal budget and the importance of investing in affordable homes for low-income Marylanders.
Oak Grove, MO – Oak Grove Manor and Phoenix Family will be hosting a letter-writing and call-in session to allow residents to contact members of Congress about the importance of safe, affordable housing. ​
Trenton, NJ – The Housing and Community Develop Network of New Jersey will be hosting its annual Legislative Day where advocates will meet with their state legislators.
Midwest City, OK – The Oklahoma Coalition for Affordable Housing has invited the Oklahoma congressional delegation to tour the Autumn Creek Villas to see how funds for affordable housing are used to benefit Oklahoma communities.
Alexandria, VA – The National Alliance of HUD Tenants (NAHT) is hosting a lunch panel to discuss "Fighting Cuts and Shutdowns, Empowering Tenants to Save Our Homes." Diane Yentel, NLIHC president and CEO, will be speaking about housing challenges for HUD tenants and proposals to empower them.
Tacoma, WA – The Tacoma Tenants Organizing Committee will discuss how to advocate for an increase in federal funding for affordable housing and will sign and send postcards to federal legislators during the committee's monthly meeting.
NLIHC thanks all who participated for your dedication and energy to make this year's Our Home, Our Voices National Housing Week of Action a huge success! Contact your NLIHC housing advocacy organizer to learn more about how you can get involved in NLIHC's work beyond Week of Action to end housing poverty and homelessness in the U.S.