NLIHC hosted a webinar, "Election Day! Getting Out the Vote," on October 15 as part of the "Third Thursdays at Three" Our Homes, Our Votes: 2020 webinar series. The session explored the most effective Election Day get-out-the-vote practices, such as coordinating rides to the polls, hosting "walk to the polls" groups in low-income housing communities to nearby polling locations, using snacks and music to keep people in line at busy polling locations, and using Election Day visibility volunteers with signs reminding people to vote. You can view the recording of this session and previous sessions (1-13) at: https://www.ourhomes-ourvotes.org/webinars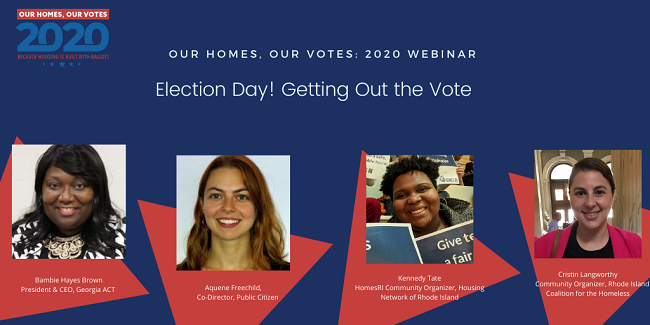 Guest presenters included Kennedy Tate from the Housing Network of Rhode Island, Cristin Langworthy from Rhode Island Coalition for the Homeless, Bambie Hayes-Brown from Georgia ACT and NLIHC's Board of Directors, and Aquene Freechild from Public Citizen. The presentation included information about a "Protect the Results" effort to organize in advance of potentially contested election results.
NLIHC provides an array of nonpartisan resources, tools, and training on increasing voter registration and turnout among low-income renters and on engaging candidates leading up to the 2020 elections, including these webinars and podcasts covering many facets of voter and candidate engagement, featuring experts and advocates with frontline experience. The presentations take place at 3:00 pm ET on the third Thursday of each month.
All sessions are recorded and posted to the Our Homes, Our Votes: 2020 website for those who cannot attend the live broadcasts.  
Register for the final webinar (November 19), "After the Vote: Holding Candidates to their Promises," at: https://bit.ly/31PftdB