The Opportunity Starts at Home multisector affordable homes campaign commissioned a May 2020 national public opinion poll through Hart Research Associates to assess the public's opinions on issues related to housing instability during the COVID-19 pandemic. The poll tested nine statements describing why it is important to address housing instability and homelessness during the pandemic. 
For each of statements, respondents were asked whether they thought it was a "very important reason," "fairly important reason," "just somewhat important reason," or "not an important reason." The top five most compelling statements are listed below. These statements were found to be effective with Democrats, Independents, Republicans, and conservative Republicans, and can be incorporated into grassroots and direct advocacy strategies.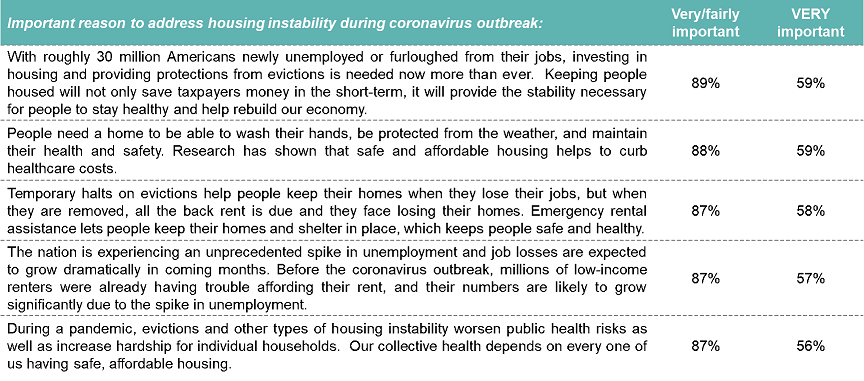 At the time of the polling, 30 million Americans were newly unemployed or furloughed, a number that is now over 40 million.
To access the full poll findings, click here.
Follow the Opportunity Starts at Home campaign on social media: Twitter, Instagram, Facebook, and LinkedIn. Be sure to sign up for our e-newsletter to get campaign updates, events, calls to action, and research.