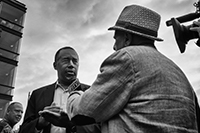 Dr. Ben Carson speaks with a reporter in Des Moines, Iowa.
President-elect Trump announced on December 5 that he will nominate Dr. Ben Carson as the new secretary of the Department of Housing and Urban Development. "Ben Carson has a brilliant mind and is passionate about strengthening communities and families within those communities," Mr. Trump said in a statement released Monday morning. "We have talked at length about my urban renewal agenda and our message of economic revival, very much including our inner cities."
Prior to Monday's announcement, NLIHC released a statement on Dr. Carson's expected appointment, stating, "with so many qualified candidates to choose from with deep knowledge of, and commitment to, affordable housing solutions for the poorest families, and with the housing crisis reaching new heights across the country, Dr. Ben Carson's nomination to serve as HUD secretary is surprising and concerning, given his lack of experience with or knowledge of the programs he would oversee."
The statement also notes, "The little that we do know about Dr. Carson's position on affordable housing is a reason for concern. In July 2015, Dr. Carson published an editorial describing fair housing as an Obama administration "experiment," revealing a fundamental misunderstanding of obligations that have been around since 1968, the year the Fair Housing Act was made law."
With input from NLIHC, several media outlets, including the Washington Post, New York Times, The Atlantic, and CityLab, expanded on concerns over how HUD's fair housing efforts would fare under Dr. Carson's leadership. CityLab also published an additional article, quoting NLIHC, attempting to find the silver lining of a medical doctor leading HUD, noting the potential positive outcomes if Dr. Carson were to use his position to make the case for the clear links between affordable housing and health.
If Dr. Carson is confirmed by the Senate, NLIHC is committed to working with him and his team, with Congressional delegations on both sides of the aisle, and with all of our members, partners, and allies towards ensuring that the country's poorest people have safe and affordable homes. With just one in four of the lowest income households receiving needed housing assistance, we will continue urging President-elect Trump, Dr. Carson, and the entire incoming administration and Congress to commit to expanding proven solutions to end homelessness and housing poverty once and for all.
NLIHC's full statement on the nomination of Dr. Carson as secretary of HUD is at: http://nlihc.org/press/releases/7316