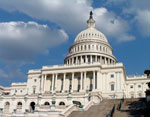 President-elect Donald Trump announced that he will nominate Representative Mick Mulvaney (R-SC) to serve as the director of the Office of Management and Budget (OMB). As a cofounder and leading member of the conservative Freedom Caucus, Mr. Mulvaney has voiced strong opposition to federal spending and has called for less government regulation.
The director of OMB is responsible for developing and executing the president's budget, as well as measuring the performance of federal agencies, policies and programs. OMB also has clearance authority for all federal regulations.
"Each day, families across our nation make disciplined choices about how to spend their hard earned money, and the federal government should exercise the same discretion that hardworking Americans do every day," said Mr. Mulvaney. "The Trump administration will restore budgetary and fiscal sanity back in Washington after eight years of an out-of-control, tax-and-spend financial agenda."
In Congress, Mr. Mulvaney has repeatedly rejected stopgap funding bills and has questioned the need to raise the federal debt ceiling to avoid default. He has even rejected his own party's proposed budget, saying that it included too much spending that would add to the federal deficit.
This past April, Mr. Mulvaney introduced a bill that would have suspended Fannie Mae and Freddie Mac's obligation to set aside funds for the national Housing Trust Fund (NHTF) and Capital Magnet Fund (CMF) until the government sponsored enterprises (GSEs) reached a certain level of capitalization.