The Opportunity Starts at Home multi-sector affordable homes campaign published a new fact sheet, "Racial Inequities in Housing," on its website.  The downloadable fact sheet explains how racial disparities manifest in housing and which historical policies caused these disparities; how racial disparities in housing impact other sectors; how some modern-day policies and practices continue to exacerbate the problem; and how the campaign's federal policy agenda could help advance racial equity and ensure that people most in need receive the most help. The fact sheet was built in conjunction with the campaign's multi-sector Racial Equity Working Group.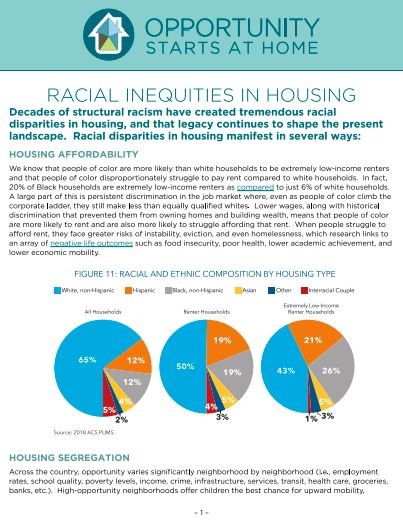 To access the new fact sheet, click here.
Follow the Opportunity Starts at Home campaign on social media: Twitter, Instagram, Facebook, and LinkedIn. Be sure to sign up for our e-newsletter to get the latest updates about the campaign, including new multi-sector partners, calls to action, events, and research.