Advocates from around the country attended this year's NLIHC Virtual Housing Policy Forum, which featured conversations with and presentations by key leaders in Congress and the Biden administration, including HUD Secretary Marcia L. Fudge, Senator Majority Leader Chuck Schumer (D-NY), Senators Sherrod Brown (D-OH), Mazie Hirono (D-HI), Amy Klobuchar (D-MN), Rob Portman (R-OH), Elizabeth Warren (D-MA), Chris Van Hollen (D-MD), and Tina Smith (D-MN), and Representatives Maxine Waters (D-CA), Cori Bush (D-MO), Pramila Jayapal (D-WA), Ritchie Torres (D-NY), David Price (D-NC), and Mario Diaz-Balart (R-FL). The forum also featured an array of additional speakers, such as MacArthur Genius award-winning photographer LaToya Ruby Frazier, and panels on topics ranging from racial equity and housing, the state of play on Capitol Hill, tenant protections, and best practices in organizing, to the multi-sector affordable housing movement, disaster housing recovery, effective media strategies and practices, lessons learned from emergency rental assistance implementation, and the central role of anti-racism, equity, diversity, and inclusion in housing advocacy.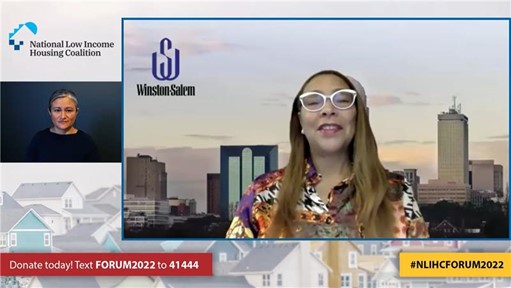 Following a welcome by outgoing NLIHC Board Chair Marla Newman, NLIHC President and CEO Diane Yentel kicked off the first day of the forum with inspiring remarks on "Achieving Housing Justice." Over the past year, she said, NLIHC and our partner advocates throughout the U.S. successfully advocated for the enactment of more than 130 new tenant protections in states and localities around the country and helped ensure an historic $46.55 billion of emergency rental assistance was made available for those renters most in need. "ERA has reached nearly 10 million people in over 3.2 million households," said Diane. "Our collective efforts to ensure these funds reach the lowest-income and most-marginalized people are working."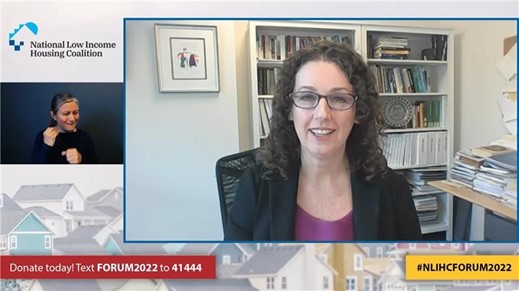 Diane also reviewed the progress made by NLIHC, its partners, and advocates in promoting racial equity and inclusion and in advancing the policy priorities of NLIHC's HoUSed campaign. She praised the efforts of advocates and partners in pushing the House of Representatives to pass the "Build Back Better Act" that would provide unprecedented investments in rental assistance, public housing, and the national Housing Trust Fund, and she urged attendees to recognize their accomplishments while redoubling their efforts on behalf of the lowest-income renters. "We achieved the unimaginable. We did the impossible. Together, we can and we will do it again," said Diane. "We will keep fighting until we end homelessness and housing poverty, until we achieve housing justice, once and for all. Thank you for fighting with us. Thank you for believing and for leading. You are an inspiration."
In the next session, "Racial Equity and Housing Justice: The Human Toll of Housing and Economic Justice," NLIHC Senior Vice President for Racial Equity, Diversity, and Inclusion Renee Willis spoke with acclaimed photographer LaToya Ruby Frazier about her work documenting the effects of housing and economic injustice. A recipient of the MacArthur Genius Award and the Gordon Parks Foundation/Steidl Book Prize, Ms. Frazier depicts in photography and writing the unsettling reality of an America torn apart by poverty, racism, healthcare inequality, and environmental toxicity. In a wide-ranging discussion, Ms. Frazier discussed why she uses her work to feature voices and perspectives traditionally erased from the American narrative and why art is such a powerful tool for social transformation.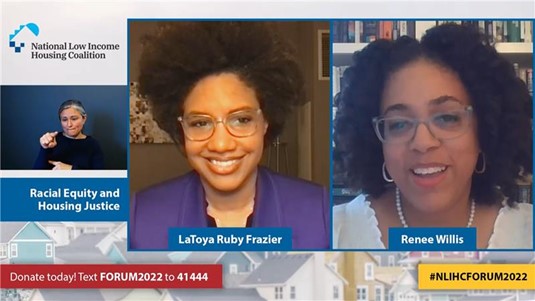 Ms. Frazier discussed her award-winning first book The Notion of Family, which offers a penetrating look at the legacy of racism and economic decline in America's small towns as embodied by her hometown of Braddock, Pennsylvania. She shared stories about her relationship to Braddock – home to steel mills and other industrial sites that have poisoned the landscape of the community and the bodies of those who live there – and reflected on how her experience living in Talbot Towers (a 210-unit public housing community that was demolished in the early 1990s) impacted her life and work. After the towers came down and people in her county were forced to secure new homes with housing vouchers, neighboring municipalities filed suit to prevent public housing residents from moving in. She spoke passionately about the insidiousness of systemic racism and inequality in housing as she recounted the story of how Talbot Tower tenants were denied access to affordable homes in neighboring white communities. Ms. Frazier also shared why she believes it is so critical to engage marginalized groups and individuals to amplify their voices and help them come together with renewed agency. She called on advocates to continue to use storytelling in their art and grassroots activism to foster greater empathy, connection, and understanding.
The next session, "Capitol Insiders Panel – The Current State of Play," featured staffers working with key congressional offices who shared insights about the path to achieving housing justice in 2022 and beyond. Beth Cooper, who works on the Senate Committee on Banking, Housing and Urban Affairs, provided an update on the "Build Back Better Act" and its historic investments in targeted housing resources. Christina Monroe from the House Appropriations Committee highlighted key investments included in the fiscal year (FY) 2022 spending bill, including 25,000 additional Housing Choice Vouchers. She also shared ideas regarding how advocates and congressional champions can best achieve universal housing assistance. Avery Pierson from the Office of Senator Rob Portman (R-OH) spoke about the "Eviction Crisis Act" and explained how the pandemic has underscored the need for permanent resources to stabilize families during a crisis. Kiara Davis, who works with Representative Cori Bush (D-MO), shared why it is so important that Congress include more representatives who have lived experience of homelessness – as Representative Bush does – to help shape policymaking.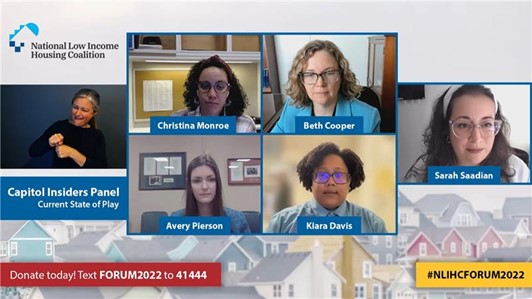 Following this session was a series of conversations with three members of Congress: Representatives Ritchie Torres (D-NY), Pramila Jayapal (D-WA), and Cori Bush (D-MO). In the first conversation, Representative Torres spoke with NLIHC President and CEO Diane Yentel about how his experience growing up in public housing gave him "the wisdom of lived experience" and a deeper understanding of how having a safe, affordable place to call home provides the foundation needed by people to thrive. He noted that, despite the critical importance of public housing, the program "has been so chronically underfunded at the hands of the federal government that, in New York alone, there's a $40 billion backlog in capital repairs." According to Rep. Torres, "the stakes are a matter of life and death. The living conditions in public housing represent a humanitarian crisis that must be addressed with the fierce urgency of now." Citing NLIHC's annual report Out of Reach, Rep. Torres noted "our country has become dangerously unaffordable. There is no county in America where an essential worker earning minimum wage can afford a decent two-bedroom apartment."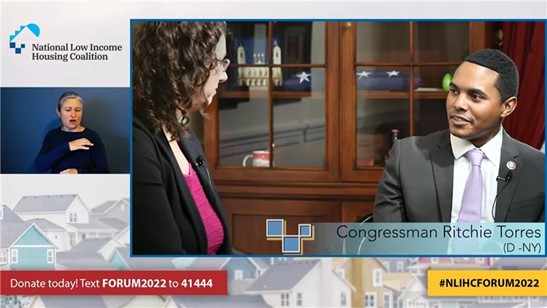 In the next conversation, Representative Jayapal, who chairs the Congressional Progressive Caucus (CPC), spoke with NLIHC Board of Directors Chair Dora Leong Gallo about her experience organizing locally and its influence on her work in Congress. "Elected office is really just another platform for organizing, and if we don't have people that represent the diversity of our lived experiences…then our policies are not going to be good enough," she stated. When asked if she had advice for organizers, Representative Jayapal suggested organizers "never underestimate the power of stories," which she emphasized as a key part of both organizing and of bringing policymakers on-board. She also counseled advocates to "be fearless, be curious, [and] look for unlikely partners, with people you thought you could never have a partnership with." Rep. Jayapal and the CPC have been instrumental in the push to include affordable housing investments in any reconciliation package, and she noted that "[every CPC member] recognizes that housing is the center of everything else" and that "housing is a human right, plain and simple."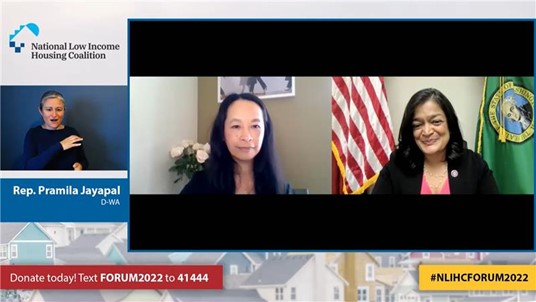 In the last conversation in this series, Representative Bush, who was a community organizer before being elected to Congress, talked with NLIHC First Vice Chair Eric Price about what her experience organizing – and her experiences with eviction and homelessness – taught her about successfully advocating in Congress. "[We have] translated our work to dismantle violent systems of oppression into policy and action on Capitol Hill," said Rep. Bush, referring to her bold activism last year when she and some of her Democratic colleagues slept on the steps of the Capitol building to protest the end of the Centers for Disease Control and Prevention's (CDC's) eviction moratorium. "Every single day I walk the halls of Congress and I remember how it felt to live out of a car. I remember how it felt to worry about my babies at night, having to sleep with one eye open because I feared something would happen to them," she said. "The federal government has a moral and political obligation [to address the needs of people experiencing homelessness.]"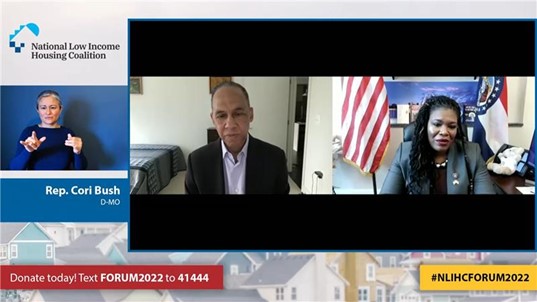 Next, HUD Secretary Marcia L. Fudge delivered comments on the fight for housing justice in the U.S. Secretary Fudge emphasized the enormity of the task ahead for housing justice advocates and noted that while the COVID-19 pandemic has laid bare the critical housing challenges facing low-income renters, these challenges pre-existed the pandemic. Commending NLIHC for seeing the dignity in every person, Secretary Fudge asserted that NLIHC's advocacy "has helped to ensure that people with the greatest need have access to quality affordable housing." She also praised advocates across the nation for supporting housing investments in the "Build Back Better Act" and applauded NLIHC for standing alongside the Biden-Harris administration in its effort to distribute rental assistance. While she expressed disappointment that Congress hasn't passed Build Back Better, she assured advocates that "the Biden-Harris administration will not grow weary. HUD will not grow weary…and my friends, I ask you to not grow weary." Referring to the ideal espoused in the Constitution of a more perfect union, Secretary Fudge stated, "If we are to form a more perfect union, it means we must establish justice…. If we are to fully achieve justice in housing, then we must fully accept what that means…. Justice in housing means that everyone realizes the fundamental truth that housing is a human right."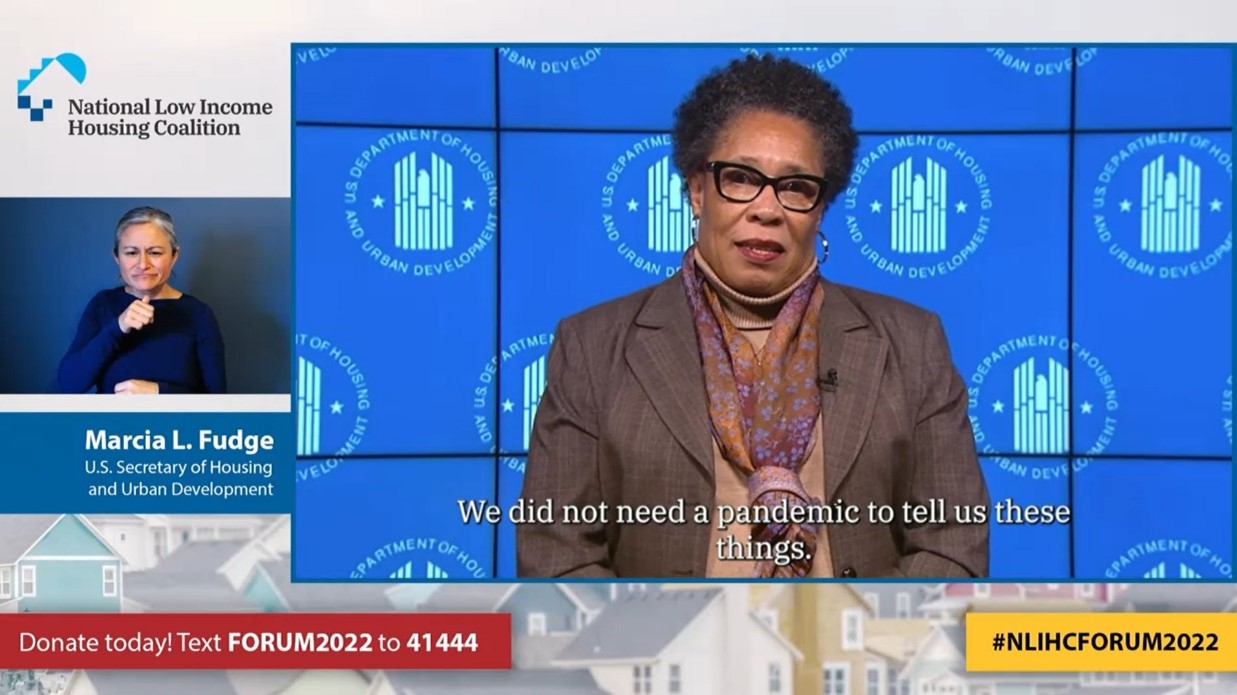 Secretary Fudge's remarks were followed by three interactive sessions with NLIHC experts that concluded the first day. In one session, "Disaster Housing Recovery," NLIHC Housing Policy Analyst Noah Patton discussed our country's disaster housing recovery system with participants. His presentation covered the phases of the disaster recovery process and showed how each phase leaves behind low-income households, who are often the most impacted by a disaster yet receive the least amount of assistance afterward. Participants were able to see how worsening climate-change-driven disasters impact the affordable housing crisis and result in displacement from disaster-impacted areas. Noah also discussed best practices communities can begin implementing before a disaster strikes. Participants learned about the work of the NLIHC-led Disaster Housing Recovery Coalition (DHRC) – over 850 local, state, and national organizations working to ensure that all disaster survivors receive the assistance they need to fully recover – and the DHRC's legislative efforts to remove barriers to disaster assistance. Currently, the DHRC is advocating for passage of the "Housing Survivors of Major Disasters Act," which would remove barriers preventing FEMA from assisting disaster survivors without clear title to their homes, and the "Reforming Disaster Recovery Act," which would remove delays in long-term recovery assistance and ensure recovery funds reach those most in need.
In another session, "Effective Media/Social Media Strategies & Practices," NLIHC Senior Director for Media Relations and Communications Jen Butler discussed how effective traditional and social media strategies can be executed through synergetic brand and relationship management. The session explored best practices for creating content, messaging, storytelling, pitching, and networking. Jen also emphasized that every organization should have its own approach to media. The session provided attendees with tips on how to maximize their media engagement, elevate their visibility, and expand their reach across diverse platforms.
In the final interactive session, "Let's Share IDEAS," forum participants learned how NLIHC is centering inclusion, diversity, equity, anti-racism, and systems thinking (IDEAS) in its work. NLIHC Senior Vice President for Racial Equity, Diversity, and Inclusion Renee Willis shared how NLIHC has undertaken an organization-wide initiative to advance racial equity and inclusion in its policy analysis and strategy, its internal operations and relationships, and its work with external partners. Participants were introduced to one of NLIHC's partners, Rise-Home Stories Project, a group of multimedia storytellers and housing, land, and racial justice advocates who came together to reimagine the future of our communities. Co-Executive Director of City Life/Vida Urbana Mike Leyba, one of the racial justice advocates behind Rise-Home Stories, introduced participants to five projects: Alejandria Fights Back!, a bilingual children's book; Dot's Home, a narrative-driven video game on housing discrimination that NLIHC helped to create; But Next Time, a nonfiction podcast; MINE, an animated web series; and Steal-Estate, an interactive online experience. These projects speak to the power of collective action in the face of increasingly toxic narratives of scarcity and individualism. The projects also use IDEAS to center the voices of BIPOC communities as creators and protagonists.
The forum's second day began with a conversation between NLIHC President and CEO Diane Yentel and Senate Banking, Housing and Urban Development Committee Chair Sherrod Brown (D-OH) and House Financial Services Committee Chair Maxine Waters (D-CA). The session, "HoUSed: Achieving Universal, Stable, Affordable Housing," focused on the progress to-date and the road ahead for achieving universal, stable, affordable housing for people with the lowest incomes, for ending homelessness, and for achieving racially equitable housing policy. In addition to discussing the experiences that led them to prioritize housing in their legislative work, Chairs Waters and Brown spoke about how the pandemic had succeeded in shifting the national focus to housing and about the future of the "Build Back Better Act." They also provided suggestions about how advocates can best push for a reconciliation bill that includes housing investments targeting the lowest-incomes renters. "When you advocate with House and Senate members, tell stories," said Chair Brown. "If you are evicted, your whole life turns upside down. You have to move school districts, you probably have to give away your family pet, you have to find a new place to go to the store. Tell these stories to my colleagues." Chair Waters agreed about the role of powerful stories in advocacy while also commending NLIHC for its success in pushing for housing justice. "You are doing everything that's needed already," said Chair Waters. "You do it well. You understand this process. You know the members. You know how to get to them. Keep it up!"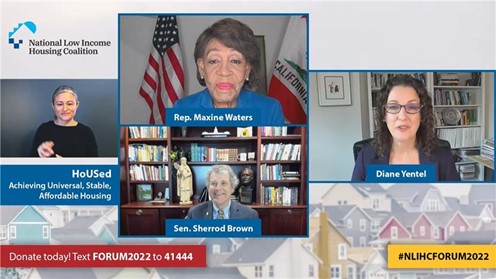 In the next section of the forum, participants were given the choice of attending a panel discussion on renter protections during the pandemic or a session on NLIHC's multi-sector affordable housing campaign. In "Achieving Vital Renter Protections," panelists discussed the federal, state, and local renter protections need to ensure long-term housing stability and address the power imbalance between renters and landlords that puts renters at greater risk of housing instability, harassment, and homelessness. Panelists shared their insights on how tenants can organize in their communities to push for fair and equitable treatment of renters. NLIHC's Senior Policy Analyst Kim Johnson moderated a panel comprising experts in tenant protections and organizing, which included Rasheedah Phillips, director of housing at PolicyLink; John Pollock, coordinator of the National Coalition for a Civil Right to Counsel and staff attorney at the Public Justice Center; Shalonda Rivers, president of the Cordoba Courts Tenant Association and a member of NLIHC's Board of Directors; and Bridgett Simmons, staff attorney at the National Housing Law Project. Together, the panelists provided an overview of the current state of tenant protections, discussed the impact of inadequate protections on low-income tenants, and spoke about the advocacy needed to enact meaningful renter protections in the coming year.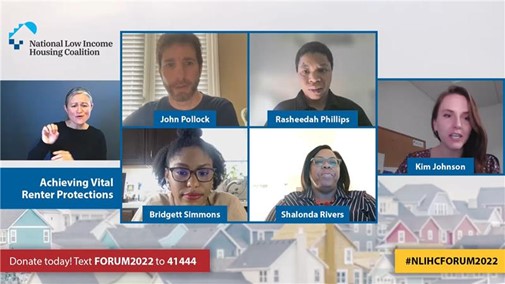 The session "Expanding the Multi-Sector Affordable Housing Movement" focused on NLIHC's Opportunity Starts at Home (OSAH) campaign, a robust multi-sector movement devoted to ensuring affordable housing. In the session, campaign partners explored the opportunities, challenges, and best practices associated with expanding the affordable housing movement to various sectors. The session was moderated by NLIHC's Chantelle Wilkinson – OSAH's campaign manager – and featured three of the campaign's longstanding partners: Khalil Shahyd, managing director of Environmental and Equity Strategies at the Natural Resources Defense Council; Zachary Tilly, policy associate with the Children's Defense Fund; and Angelica Moran, policy associate with the Idaho Asset Building Network. Attendees learned about why and how campaign partners are focusing on housing affordability, as well as how state partners are recruiting new voices in their multi-sector movements. They also learned about the unique contributions to advocacy provided by multi-sector partners, key milestones in the campaign, and ways to sustain multi-sector advocacy efforts in an evolving political environment.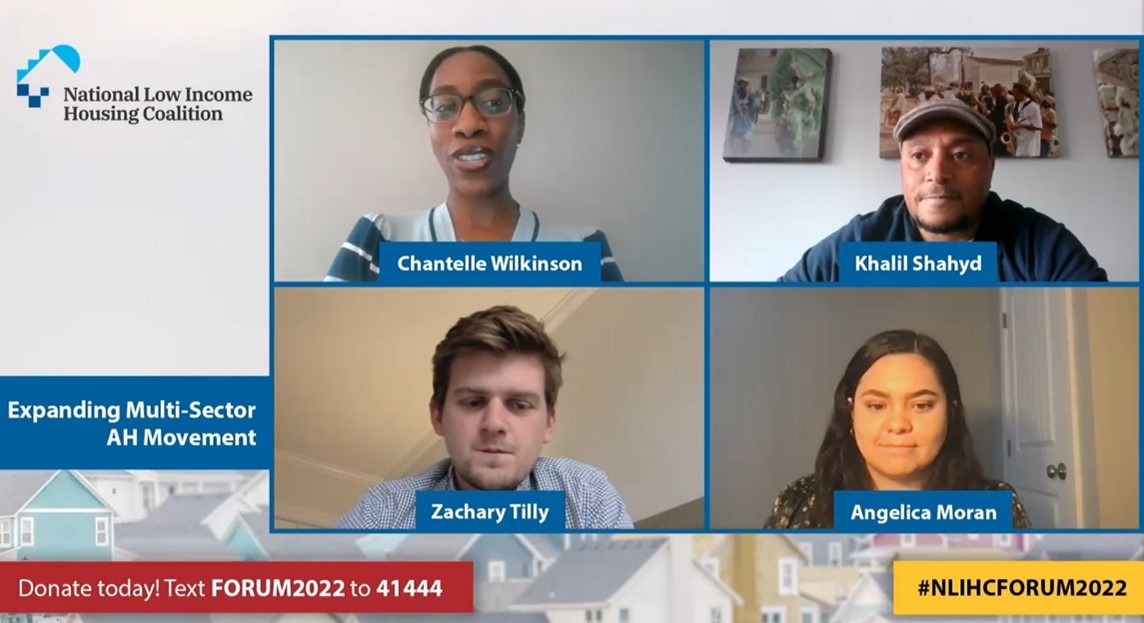 The next session, "Best Practices for Organizing," featured NLIHC's 2022 Organizing Awards recipients, who shared the stories behind their successful campaigns to achieve transformative affordable housing victories at the state and local levels. The Washington Low Income Housing Alliance (WLIHA) was honored with the 2022 Statewide Organizing Award for its effective advocacy to secure statewide tenant protections and significant housing investments in the state's 2021 legislative session. Housing Equity Now St. Paul (HENS) was honored with the 2022 Local Organizing Award for its leadership in the movement to pass a rent stabilization ballot measure in St. Paul's 2021 municipal elections. Duaa-Rahemaah Williams, statewide organizer, and Michele Thomas, director of policy and advocacy, represented WLIHA on the panel, while Tram Hoang, campaign manager for Keep St. Paul Home, and Monica Bravo, executive director of West Side Community Organization, represented HENS. The speakers highlighted the concrete lessons learned from their campaigns that will inform and inspire other organizers across the country. Representatives from both campaigns emphasized that building coalitions, ensuring community buy-in to their policy priorities, incorporating a racial equity framework, mobilizing directly impacted communities, and prioritizing accessibility for people with disabilities were critical to their victories. Advocates are encouraged to connect with the organizing award winners on social media: Housing Equity Now St. Paul can be found on Facebook here and Twitter here; the Washington Low Income Housing Alliance can be found on Facebook here and Twitter here; and WLIHA's Resident Action Project can be found on Facebook here and Twitter here.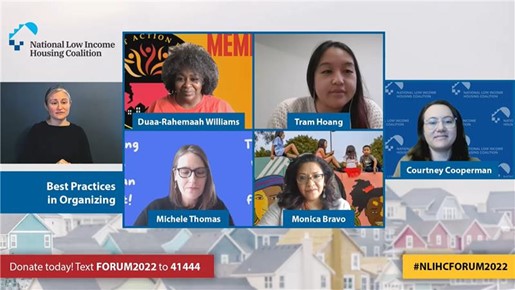 The day's last full-length panel, "ERASE: Lessons Learned from Emergency Rental Assistance," provided attendees with an overview of federal emergency rental assistance (ERA) implementation, the status of ERA spending, and the impact of ERA on landlords, tenants, and eviction-prevention efforts. Moderated by NLIHC's Sarah Gallagher, senior project director of the End Rental Arrears to Stop Evictions (ERASE) project, the session featured Jacob Leibenluft of the U.S. Department of the Treasury; Marjorianna Willman of the Office of Housing Policy and Community Development in the City of New Orleans; and Aaron Gornstein of Preservation of Affordable Housing, Inc. Representing the perspectives of a federal agency, a local program administrator, and a landlord, the speakers discussed what they have learned from the implementation of the ERA program, how those lessons inform their work supporting low-income renters now, and how what they have learned will shape their approach to the next crisis. The panelists highlighted opportunities to create a permanent emergency rental assistance program using multiple funding streams, best practices for conducting outreach to low-income and marginalized renters, and strategies for creating accessible applications that limit burdensome documentation requirements while maintaining program integrity.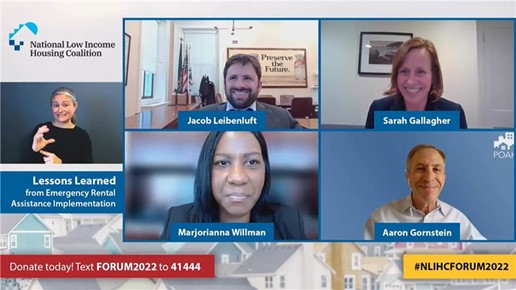 Messages to forum participants from key congressional leaders where shared throughout the Forum, including from Senate Majority Leader Chuck Schumer (D-NY); Senators Mazie Hirono (D-HI), Amy Klobuchar (D-MN), Rob Portman (R-OH), Tina Smith (D-MN), Chris Van Hollen (D-MD), and Elizabeth Warren (D-MA); and Representatives Mario Díaz-Balart (R-FL) and David Price (D-NC).
Prior to the close of the forum, NLIHC Housing Advocacy Organizer Gabby Ross provided forum participants an overview of NLIHC's advocacy toolkit for Virtual Capitol Hill Day, which took place the day after the forum on March 24.
NLIHC Board Chair Dora Leong Gallo concluded the forum, thanking the speakers, panelists, and attendees and calling on all participants to continue to advocate for the transformational policies needed to end homelessness and housing poverty in America once and for all.