Update from Our Homes, Our Voices Housing Week of Action: Action Outside of HUD's Office
By Rhoda Gibson, Co-Founder of Mass ADAPT
This past year, the administration has proposed many threats to affordable and accessible housing. I live in affordable housing and am worried about how the loss of resources could affect my neighbors and me. Because of these threats, I have been active in my community and across the nation, making my voice heard about the need for more affordable and accessible housing, not less.
MassADAPT and the Boston Center for Independent Living organized a protest May 4, outside of the HUD offices in Boston, in response to the administration's proposal to require many low income families to pay an even greater share of their limited incomes on rent and to increase rents for households with high medical or child care expenses. I helped coordinate the effort through my role as co-founder of MassADAPT, the Massachusetts chapter of ADAPT, a grassroots disability rights group that engages advocates in nonviolent direct action to ensure the civil and human rights of people with disabilities.
On May 4, fifteen advocates protested and handed out flyers to pedestrians. Northeastern's graduation was the same day, so we were able to engage many graduates and family members in conversations about accessibility issues. Even one of the HUD security guards came out, asked for more information, and how he could help the cause. One issue the activists were concerned about was their inability to use vouchers for newly constructed accessible units in Massachusetts, particularly in the Malden, where I live. The nonviolent action was a great opportunity to inform the public about the unmet accessible housing needs of people with disabilities.
My engagement in issues related to housing and accessibility rights did not stop with the protest on May 4. I have participated in visits with members of Congress regarding affordable accessible housing. It's so hard to find and secure affordable housing when one has a disability. I am trying to do as much as I can to raise this issue to the forefront of people's minds. Hard times can happen to anyone. I became disabled at the age of 54 and it was very unexpected. Having a safety net to land on when the unexpected happens is something I am grateful for, and I hope that I don't see it disappear in my lifetime.
---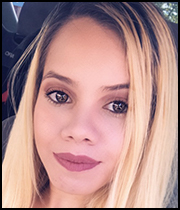 My Journey
By Yanira Cortes, Newark NJ Resident Leader and NLIHC Board Member
I am delighted be the newest member of the Tenant Talk editorial board. The last few years of my life have led me to better appreciate and understand the importance of housing policy advocacy and the power of low income renters when they speak up.
As a wage-earner and single mother of four, there is little margin for error in budgeting, and money is always tight. I was delighted when I was eventually able to get an affordable apartment at Pueblo City Apartments. Unfortunately, affordability isn't the only important part of a stable home. Safety and health are essential as well.
My experience at Pueblo City Apartments was horrific. My apartment was filled with mold and infested with pests. The property managers were not responsive to my repeated pleas for repairs. I couldn't just move. Locked in a lease and having little money to cover moving costs, where could I go?
I sought help. First, I went the conventional route with building inspectors to document code violations and have fixes ordered. But I didn't stop there. I met with the Ocean County Lakewood Chapter of the NAACP., the Greater Newark HUD Tenants Coalition, Former New Jersey State Senator Jennifer Beck (R-Monmouth), the CEO of Ocean, Inc., and various others who helped me secure new housing options. I testified before the Senate's Community and Urban Affairs Committee to share my experiences and ensure other low income people don't have similar experiences.
Today, I have a Housing Choice Voucher that has enabled me to move my children into a house in Ocean County. I know that for many low income renters, the story doesn't work out this well. Many give up. Many never find the people who are willing to help.
My experience living in sub-standard housing fuels my interest in making sure that NLIHC is successful in securing more resources and better tenant protections. It's important for my family, it's important for my community.
We want to hear from you! 

Submit your feedback about this edition of Tenant Talk, stories about events in your community, or reflections on federal policy to [email protected], and you could be featured in future editions of Tenant Talk!