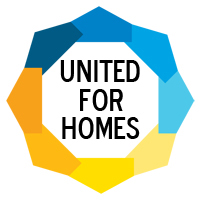 The "Resources" page on the United for Homes (UFH) website includes images for Twitter and Facebook, data, fact sheets, and other tools to assist advocates in spreading the message about the simple UFH solution to homelessness and housing poverty in America: reinvesting savings from modest reforms to the mortgage interest deduction (MID) into affordable housing.  
Under "Build Support," users can download or print flyers that provide informational snapshots about the campaign. These flyers can be displayed on an exhibit table at a conference or used as a leave-behind in meetings with members of Congress, and contain graphics and quote that can be added to a presentation or uploaded to social media.  
There are four flyers that can be used to build support around the UFH campaign—United for Homes Fact Sheet, United for Homes Flyer, What People are Saying, and a UFH Brochure.
The UHF Brochure, for example, is a printable tri-fold document that provides key high-level information about the campaign, like:
The mission of the UFH campaign and its supporters.
A brief message from NLIHC President and CEO Diane Yentel on the impact the campaign proposal would have on the millions of lower income homeowners who would be eligible for a new tax benefit.
Seven topline facts the campaign addresses, such as: "The shortage of affordable housing in major metropolitan areas costs the American economy about $2 trillion a year in lower wages and productivity."
Visit the UFH campaign website at: http://www.unitedforhomes.org/