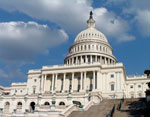 The Senate Transportation-HUD (THUD) Appropriations Subcommittee held a hearing on September 21 to discuss ways to reduce costs in federal housing programs. At the center of the discussion was a proposal to convert public housing and project-based rental assistance into housing vouchers. Witnesses included San Diego Housing Commission President and CEO Richard Gentry, University of Virginia Professor of Economics and Public Policy Edgar Olsen, and Urban Institute Fellow and Director of Urban Policy Initiatives Erika Poethig.
Chairwoman Susan Collins (R-ME) began the hearing by expressing deep concern that rental assistance programs account for 84% of HUD's Fiscal Year (FY) 2017 budget and asking the witnesses about the effectiveness of the program.
Dr. Olsen argued for a complete conversion of project-based housing into housing vouchers. Ms. Poethig disagreed, stating that the housing market on its own cannot provide enough low-income rental homes for the new voucher holders who would flood the private housing market. Instead, she advocated for using housing vouchers to supplement project-based housing programs.
Mr. Gentry expressed concern about top-down federal policy decisions and advocated for local policymaking. He also stressed the importance of flexibility in low-income housing and in efforts to transform "passive clients into active consumers" by allowing families to choose between accepting project-based housing and housing vouchers.
Watch the Senate THUD Appropriations Subcommittee hearing at: http://bit.ly/2cCS99B