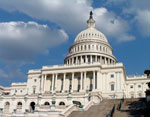 The Senate Committee on Appropriations approved by a vote of 30-0 its FY17 spending bill for the U.S. Department of Agriculture (USDA) on May 19.
The bill would fund the Section 521 Rental Assistance program at $1.405 billion for FY17, the amount requested by President Obama and $15.3 million more than was appropriated for FY16. The proposed bill would increase the Multifamily Preservation and Revitalization (MPR) program, which would receive an additional $3 million for housing vouchers.
The Committee included in the report accompanying the bill concerns about the number of multi-family mortgages that are scheduled to mature over the next few years. "In spite of numerous requests from the Committee, the [USDA] has failed to identify and develop potential solutions to this looming crisis." The Committee directs the USDA Secretary "to engage affordable housing advocates, project owners, and others as practicable, to find acceptable and effective long term solutions that will retain projects in the affordable rural housing program." The Committee also provided short-term stopgap assistance to delay the loss of affordable housing units while USDA develops a comprehensive long-term solution. That assistance includes a $11.6 million increase in the Section 515 Rural Rental Housing Loan Program, regulatory relief from self-imposed requirements, and a pilot project to provide technical assistance to facilitate transfers of projects to new owners. 
Read more about the bill here: http://1.usa.gov/1Wv1EJr