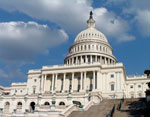 Senate Budget Committee Chair Mike Enzi (R-WY) announced bipartisan proposals to reform the federal budget process, which perennially runs into congressional gridlock each year.
"America's budget process is broken, and it is preventing Congress from tackling the pressing fiscal challenges facing our country," said Chair Enzi. "The current budget process is designed only to spend and fails hardworking taxpayers. What America really needs is a budget process built to save. It is time to unstick the budget gridlock that has gripped Washington in recent years, and begin to put our nation on not just another path, but a better path."
While Chair Enzi did not introduce specific legislation, the Committee released a memo outlining the proposals, the result of closed-door meetings and negotiations between members of the committee. Those proposals include moving towards biennial budgeting, creating new Budget subcommittees to review entire portfolios of government spending, and establishing enforceable, long-term fiscal targets.
Read the Senate Budget Committee memo at: http://bit.ly/29AYRIB