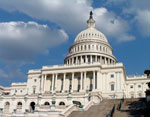 The Senate seemed poised to begin considering the FY17 THUD spending bill (S. 2844) last week until an amendment related to the U.S.-Iran nuclear deal was offered during debate of the FY17 Energy and Water spending bill, derailing the appropriations process.
Senators could not reach an agreement on the amendment introduced by Senator Tom Cotton (R-AR), and Democrats blocked closing debate on the spending bill twice before Senators left for a weeklong recess. As a result, the Senate will likely take up the THUD bill along with the Military Construction and Veterans Affairs (MilCon) spending bill when it returns on May 9.
Senator Susan Collins (R-ME), who chairs the THUD Appropriations Subcommittee, stated, "I am told we will go to my bill when we come back. [Senate Majority Leader Mitch McConnell] has told me to be prepared to go to THUD and that MilCon is going to be grafted onto the bill, or the two bills are going to be combined."
Senator Collins was still waiting to hear from her Senate colleagues about amendments they would like to offer to the THUD bill and asked that they contact her during the recess if they had proposals.  Advocates are encouraged to contact their Senators during the recess and urge prompt passage of the THUD spending bill without controversial riders. (See Memo, 4/25 for a summary of the bill.)
In the House, THUD Appropriations Subcommittee Chair Mario Diaz-Balart (R-FL) indicated that the release of the Subcommittee's bill was still another few weeks away. He also stated, "We're not flush with money, but we'll be fine. I think we'll be able to put together a bill that people will feel proud of."
NLIHC's budget chart is at: http://bit.ly/1SowzjU
Read the text of the THUD spending bill at: http://1.usa.gov/1NFsnj5
Read the THUD spending bill's report at: http://1.usa.gov/1VXtQ6G