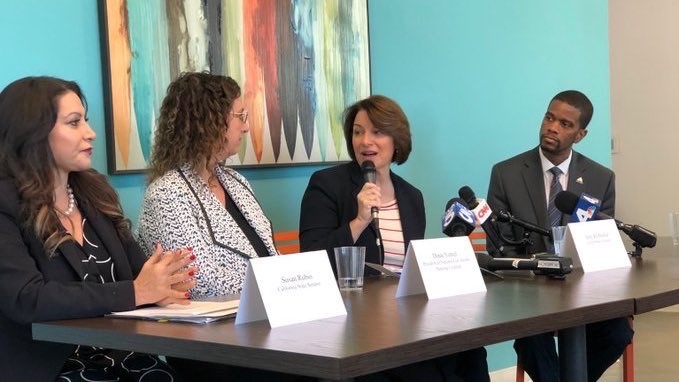 Senator Amy Klobuchar (D-MN), a 2020 presidential candidate, participated in an Our Homes, Our Votes: 2020 tour of the Arroyo, a new affordable housing development in Santa Monica, CA, on Thursday, December 19. Tara Barauskas, executive director of the Community Corporation of Santa Monica led the Senator, Diane Yentel, NLIHC president and CEO, and others on a tour of the facility. The event was organized in partnership with the Southern California Association of Nonprofit Housing (SCANPH).
Following the tour, Senator Klobuchar participated in a policy conversation moderated by Diane. California State Senator Susan Rubio and St. Paul, MN Mayor Melvin Carter also participated in the conversation. The discussion focused on federal solutions to the affordable housing and homelessness crisis in California and across the country. Senator Klobuchar used the event to release and discuss her new plan to address affordable housing that includes a significant investment in the national Housing Trust Fund and other critical programs.
During that evening's Democratic candidates' debate, Senator Klobuchar noted, "I started my day today with a group of advocates who were there talking to me about immigrants and housing." 
Our Homes, Our Votes: 2020 is tracking all candidates' proposals on affordable housing and homelessness. Read about what the candidates have proposed at Our Homes, Our Votes: 2020 candidate profiles.  
See Diane's statement on Senator Klobuchar's housing plan: https://bit.ly/2EIDypU
More about Our Homes, Our Votes: 2020 is at: https://bit.ly/36OXN1h