Advocates across the country came together on June 26 for a Day of Action to Keep Families Together to oppose HUD's cruel proposal to force 25,000 mixed-status immigrant families – including 55,000 children who are U.S. citizens or have legal status – to separate or face eviction. Advocates held "commenting parties" and press conferences. NLIHC, the National Housing Law Project (NHLP), and the Council of Large Public Housing Authorities were joined by Patrick Bond, Representative Sylvia Garcia's (D-TX) legislative director, on a webinar to help rally support and share resources that can be used to stop the proposal.  The total number of comments submitted - the vast majority opposing the proposed rule - grew to 9,300!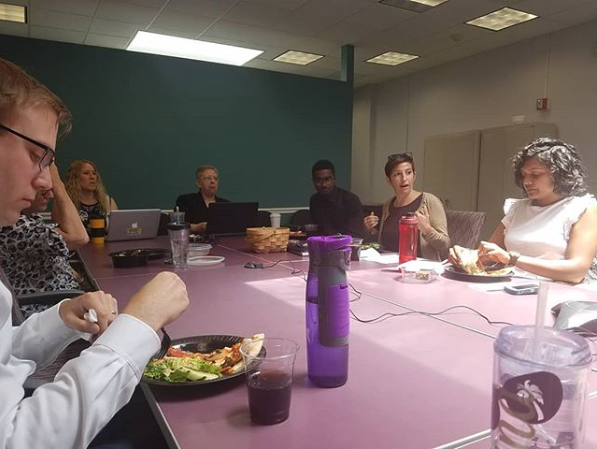 Staff at Housing and Community Development Network of New Jersey participated in a lunch-time comment party and discussion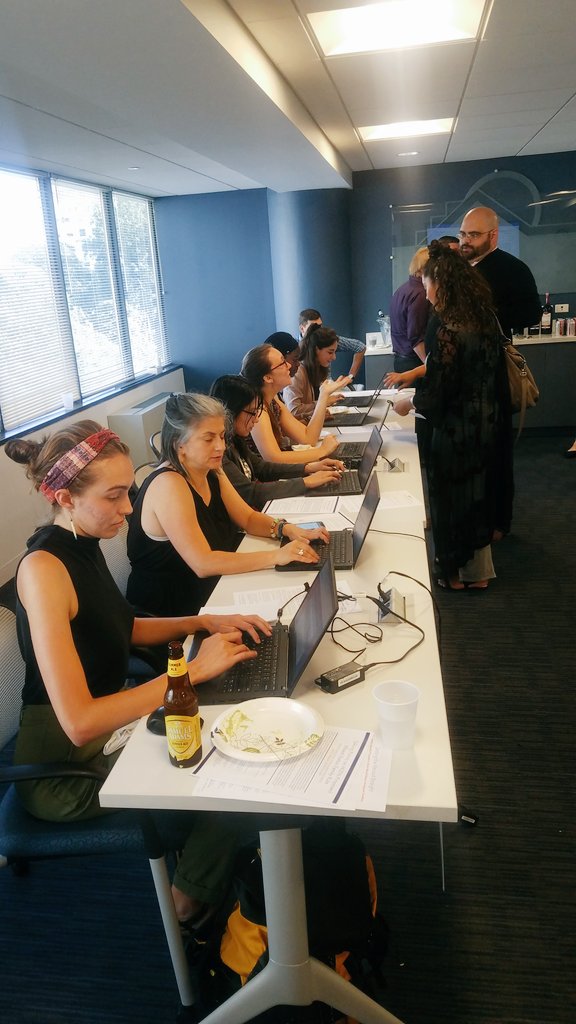 NLIHC staff and partners participated in a comment party at the NLIHC office in Washington, DC.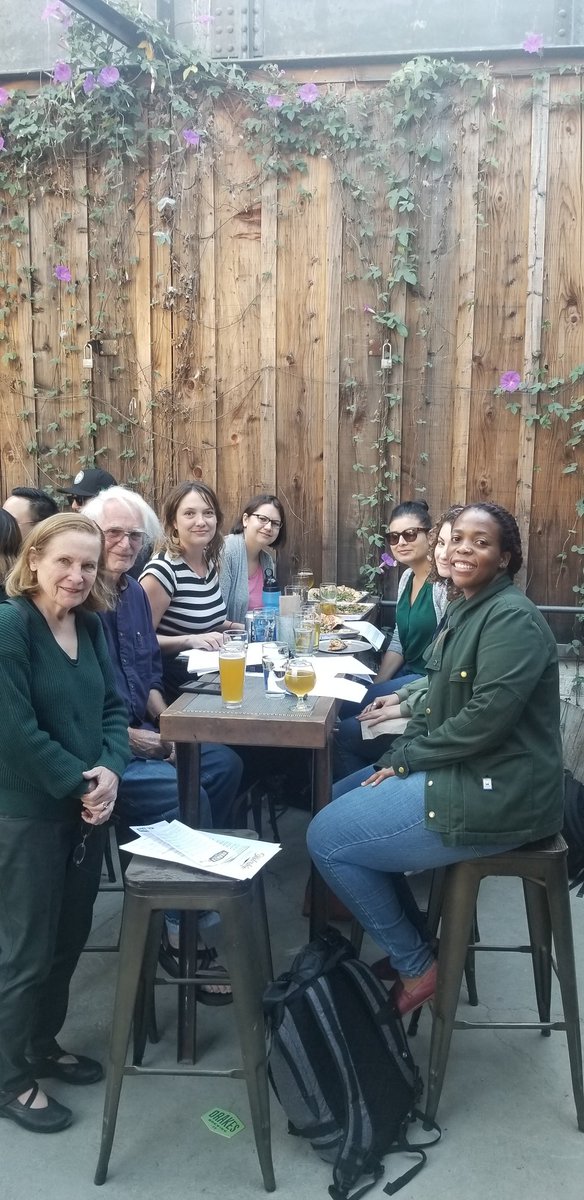 Members of the Public Health Justice Collective submitted comments in Oakland, CA.
Several Los Angeles-based housing and immigration organizations joined with civic leaders during a press conference on the impacts the rule would have on local communities.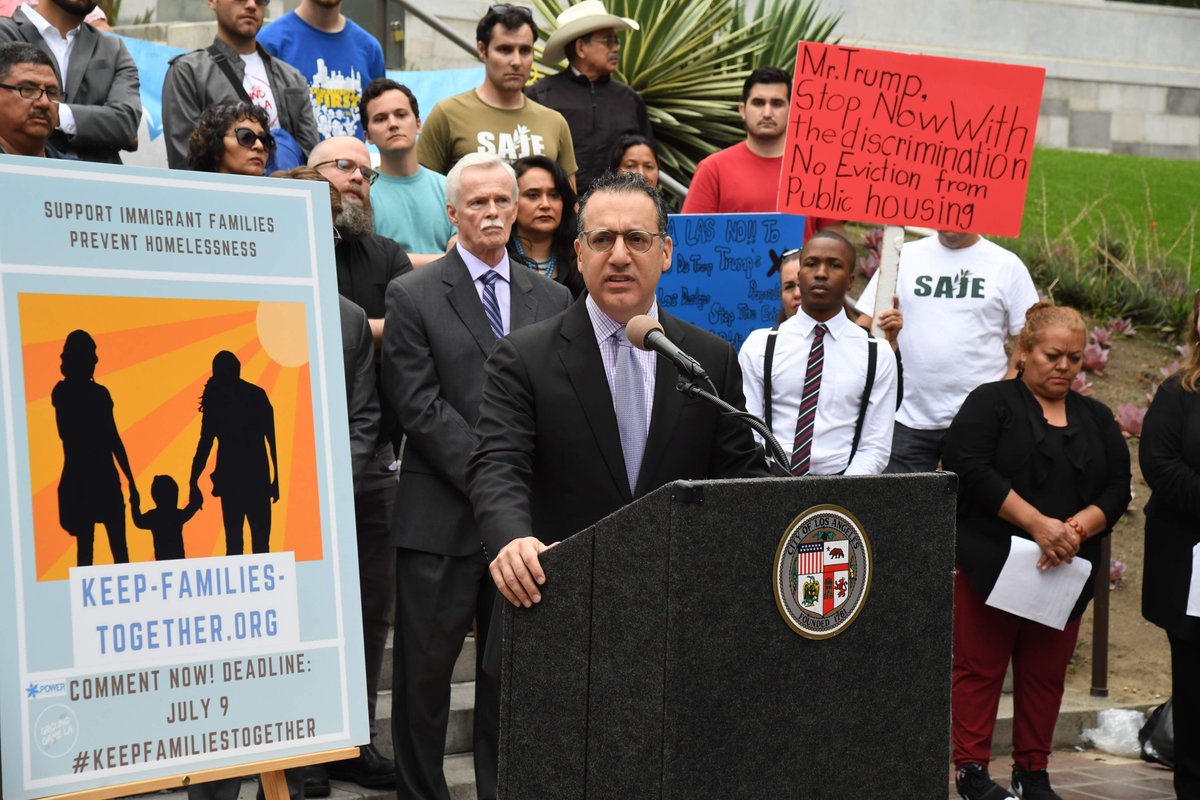 LA City Council member Bob Blumenfield speaks at press conference opposing HUD rule.
Shortly after the press event, Los Angeles Mayor Eric Garcetti shared his letter to HUD opposing the rule and encouraged others to submit comments.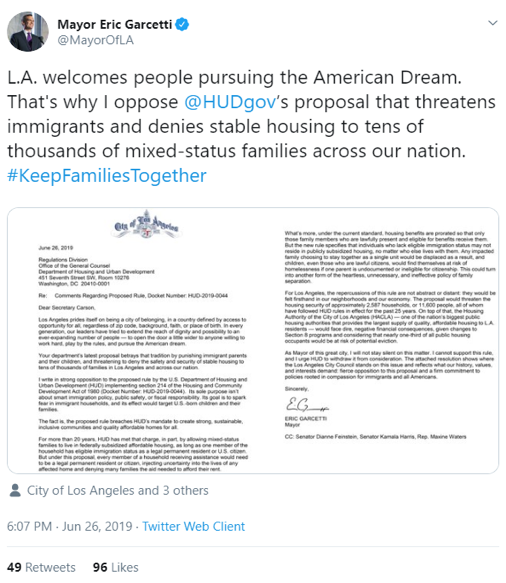 NLIHC and NHLP now invite advocates to join us for a Keep Families Together tweetstorm on July 8 at 11:00 a.m.–12:00 p.m. ET for one final push to submit comments before the July 9 deadline. With your support, we can generate more than 10,000 comments opposing the proposal. Sample tweets and images can be downloaded at: https://tinyurl.com/y63r24uh
Submit comments in English and Spanish at: https://www.keep-families-together.org/