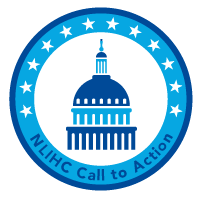 Call your Members of Congress to oppose the American Health Care Act that would cause 24 million people to lose health insurance and would cut Medicaid funding for supportive housing services that benefit people experiencing homelessness
The House of Representatives is scheduled to vote on a bill to repeal the Affordable Care Act (ACA) on Thursday, March 23. H.R. 1628, The American Health Care Act of 2017, would eliminate important aspects of the ACA.
While the Trump Administration and Republican leadership in Congress claim their plan will replace the healthcare provided under the ACA, the proposal includes severe cuts that would impact millions of Americans.
The replacement bill would roll back Medicaid expansion and change the entire structure of the program, making it a block grant and dramatically cutting its funding. These changes would be devastating for low income households, especially homeless individuals receiving supportive services through Medicaid. President Trump has also recommended adding provisions to allow states to impose work requirements, premiums, and emergency-room copayments within Medicaid.
Call your Members of Congress today to oppose H.R. 1628 and voice your support for the Medicaid expansion that serves the healthcare and housing needs of thousands of vulnerable Americans at http://cqrcengage.com/nlihc/app/make-a-call?9&engagementId=318393
For more information, see our Memo article on ACA repeal.
Learn more about how Medicaid affects those most impacted by the affordable housing crisis here.
Click here for an analysis of the bill from the Center on Budget and Policy Priorities.
Thank you for your advocacy!