According to a study released online on September 3, children who were in the womb when their mothers experienced homelessness are significantly more likely to have been hospitalized since birth compared to children whose mothers never experienced homelessness. They were also more likely to be in fair or poor health.
The study, "Timing and Duration of Pre- and Postnatal Homelessness and the Health of Young Children," will be published in the October 2018 edition of Pediatrics, the official journal of the American Academy of Pediatrics. Researchers interviewed more than 20,000 caregivers in five cities – Baltimore, Boston, Little Rock, Minneapolis, and Philadelphia. Some caregivers were homeless prenatally (before birth), others were homeless postnatally (after birth), and some were homeless both prenatally and postnatally.
Researchers found an array of adverse effects, both for children in the prenatal homeless group and in the postnatal homeless group. The earlier homelessness occurs and the longer it lasts, the more harmful it was to a child's health and development. These negative effects can persist into adulthood.
"We believe this paper has important clinical and public policy implications," said Dr. Megan Sandel, one of the study's authors and principal investigator with Children's HealthWatch. "Clinically, we think it's very important to develop interventions to prevent family homelessness before it occurs. There are ways in which clinicians could be screening for housing instability to be able to identify at-risk populations. We also believe that this has important policy implications in terms of increasing our ability to argue towards affordable housing."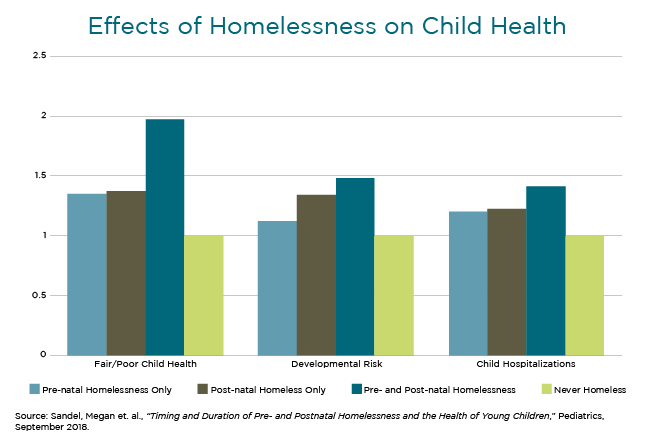 Please follow the Opportunities Starts at Home campaign on all social media platforms: Twitter, Instagram, Facebook and LinkedIn