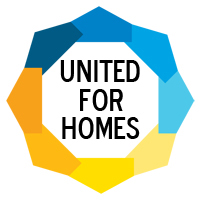 United for Homes endorsers are invited to join a webinar, "Take It to the States! MID Reform Is Not Just a Federal Issue," on May 10 at 2 pm ET. Guest presenters include Jerome Brooks, executive director at Oregon Opportunity Network, and Tyrone Buckley, policy director for land use and finance at Housing California. The presenters will share their ongoing legislative efforts to reform their states' mortgage interest deduction (MID). Of the 41 states that impose a tax on all income, 31 allow for income to be reduced for mortgage interest payments. The specifics and parameters of state-level MID benefits vary, but the benefits are similarly regressive to the federal MID, exacerbating economic inequality. Also on the webinar, NLIHC staff will discuss President Donald Trump's recent tax reform proposal and will share the latest updates from Capitol Hill.
United for Homes webinars strive to highlight best practices for advocacy and provide tools that advocates can use around the country. The April webinar, "Just in Time for Tax Day—Deductions, Credits, and Homeownership," reviewed the implications of UFH's campaign proposal to convert the MID to a non-refundable 15% credit with the maximum portion of an eligible mortgage capped at $500,000. NLIHC VP for Research Andrew Aurand and Eric Toder of the Urban-Brookings Tax Policy Center Institute provided a thorough breakdown of who would benefit from the proposal and where the $241 billion of new tax revenue would come from. Watch the April webinar here.  
Future webinars will feature guest experts, policymakers, advocates, and researchers on topical issues. All UFH webinars are available on the UFH website at: http://www.unitedforhomes.org/webinars/
If you have not already registered for the monthly UFH endorser webinars, register for the May 10 event at: http://bit.ly/2irHS2E. Once you register, you will not need to register again for the monthly UFH endorser webinars.
If you are not already a UFH endorser, please join the campaign at: http://www.unitedforhomes.org/join-the-movement/
If you are not sure if you are a UFH endorser, check the list of current endorsers at: http://www.unitedforhomes.org/national-supporters/