Los Angeles County provided voters an opportunity to choose how local revenue should be spent and how big of a slice of the budget should be provided to law enforcement and jails versus other investments. Measure J is a response to 42% of the L.A. County's annual revenues being spent on jails and the legal system. Measure J passed on Election Day by a large margin, with a vote of 57% to 43%. The measure requires that 10% of all local revenue in the future be dedicated to community investments, of which affordable housing is an eligible use. This 10% accounts for about $1 billion of investment each year. This change in the law does not raise any new revenue. It just makes a legal requirement for how the budget must be spent. 
The Los Angeles County Board of Supervisors will now appoint an oversight committee that will decide what community investments will benefit from the revenue set aside.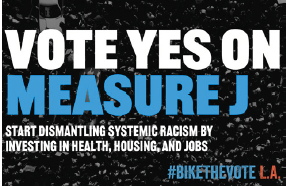 Re-Imagine L.A. County pushed for the passage of Measure J, assembling a broad coalition of racial justice, education, housing, union, and criminal reform advocates.
Re-Imagine L.A. County included leadership from United Way of Greater Los Angeles and various housing groups including the Southern California Association of Non-Profit Housing, Skid Row Housing Trust, Union Station Homeless Services, PATH, Venice Community Housing, and many others.