Let's talk about it.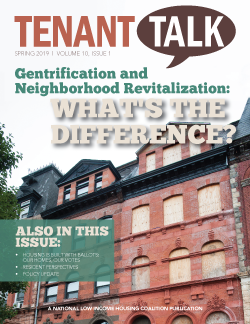 The newest edition of Tenant Talk explores the issues of gentrification, neighborhood revitalization, and resident displacement. The publication provides readers a review of how communities throughout the country are engaging to ensure that new development does not cause mass displacement of existing low-income renters and that development occurs in an equitable manner.
If you would like Tenant Talk mailed to you, please fill out this quick and easy form to let us know how many copies you would like to receive.