The Gap Press Contact and Kit
Please complete the information below to receive press updates on NLIHC's The Gap: A Shortage of Affordable Homes.

The press kit (.zip file) contains images from The Gap that can be used online or in print. Permission to reprint all or some of the images is granted, provided appropriate credit is given to the National Low Income Housing Coalition (NLIHC). All images are copyright of NLIHC.

For questions regarding media coverage and reprints, please contact Jen Butler, Senior Director, Media Relations and Communications, [email protected], 202-662-1530 x239.
Images from The Gap 2022
Individual graphics are available below or download all the graphics in English and Spanish (coming soon) (.zip files).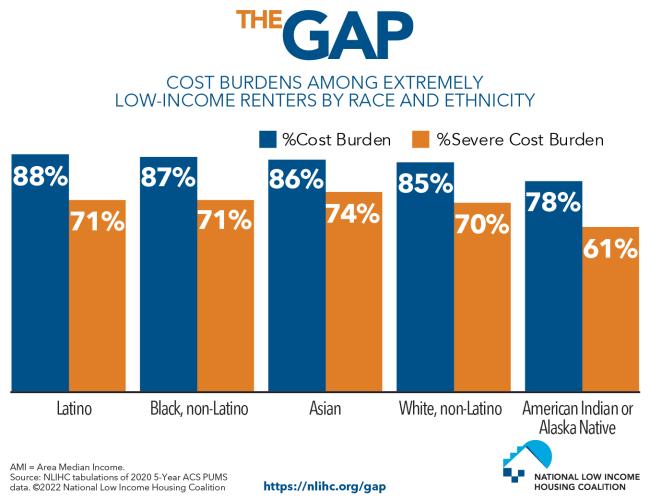 Cost Burdens Among Extremely Low-Income Renters by Race and Ethnicity
Racial and ethnic disparities in housing cost burdens tend to be less pronounced among the lowest-income renter households. American Indians and Alaska Natives are less likely to be cost-burdened, but are more likely than others to live in over-crowded or physically inadequate housing.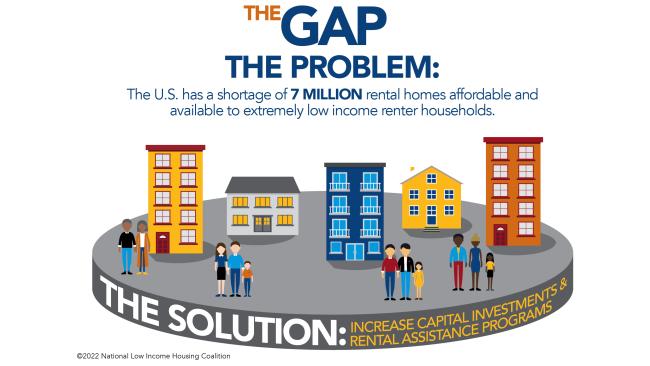 Solving the Gap
We need significant and sustained federal investments in the national Housing Trust Fund, public housing, and the preservation of the existing affordable housing stock; expansion of the Housing Choice Voucher program to all eligible households; a National Housing Stabilization Fund to prevent evictions and homelessness; and stronger renter protections to help families stay stably housed.