New Reports and Upcoming Data Releases from NLIHC's Research Team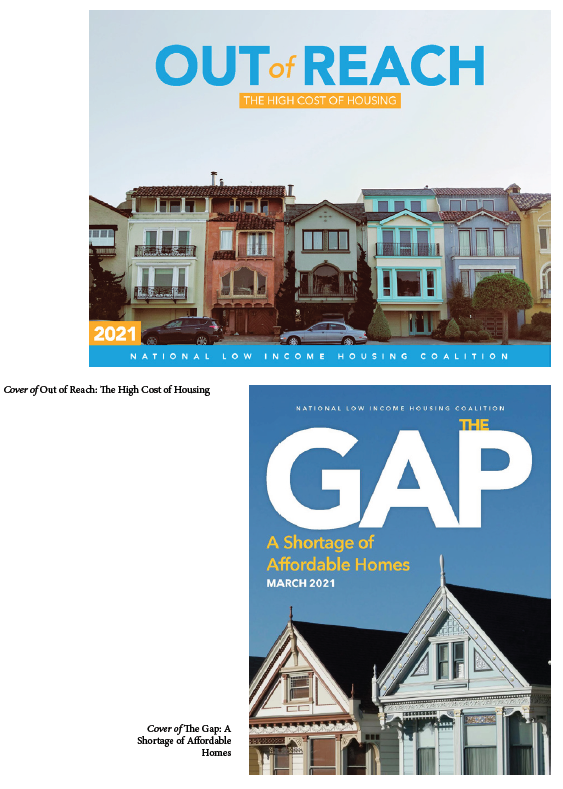 NLIHC's research documents the need for more public investment in affordable rental housing and provides policy recommendations to ensure those investments target households with the greatest need. The Gap, an annual report we typically release in March, documents the shortage of rental homes affordable and available to renters with extremely low incomes for each state and large metropolitan area. In last year's report, we estimated a national shortage of 6.8 million affordable and available rental homes. No state or major metropolitan area was found to have an adequate supply. Out of Reach, an annual report released during the summer, estimates the "housing wage" – the hourly wage that a full-time worker needs to earn to afford a modest rental home in their community. The housing wage in 2021 was $20.40, on average, for a one-bedroom rental home and $24.90 for a two-bedroom rental home. Both wages are much higher than the typical earnings of low-wage workers. We will release updated editions of The Gap and Out of Reach later this year.
NLIHC's research team also regularly publishes reports focused on protecting the existing supply of affordable rental housing. In 2021 Picture of Preservation, we discussed the challenge of preserving the affordability and quality of thousands of publicly assisted rental homes that could be lost from the affordable housing stock in the near future because of expiring rental contracts, lapsing affordability restrictions, or poor physical conditions. In 2022, we will work to improve our data so advocates can better target their organizing efforts towards properties at the greatest risk of being lost. In another publication released last year, Taking Stock: Natural Hazards and Federally Assisted Housing, we estimated that in 2021 one-third of federally subsidized homes are in areas at high risk for negative impacts from natural hazards.
Throughout the pandemic, NLIHC has tracked state and local emergency rental assistance (ERA) programs implemented to help renters who have fallen behind on their rent. Households can find an ERA program near them using NLIHC's searchable database, where we currently track more than 500 Department of the Treasury Emergency Rental Assistance programs. Our research, which can be found on NLIHC's ERA Resource Hub, highlights best ERA practices to ensure that assistance reaches renters with the greatest needs. The reports available through the site provide information about how to prioritize households, provide direct-to-tenant payments when landlords refuse to cooperate, and advance racial equity. As of November 2021, Treasury Department ERA programs had spent $16.9 billion and provided assistance to 3.2 million households. NLIHC will continue to track ERA spending and further evaluate these programs in 2022.
Tenants in Low Income Housing Tax Credit Properties: What Will Happen When Affordability Restrictions End?
The Low Income Housing Tax Credit (LIHTC) program was established by the "Tax Reform Act of 1986" to fund the construction, rehabilitation, or preservation of affordable homes for low-income renters. The LIHTC program gives federal tax credits to state housing financing agencies. The agencies then award those credits to developers through an application process. Developments are eligible for tax credits if they include a certain portion of units that are affordable for households with incomes less than 60% or 50% of the area median income.  Federal law requires LIHTC properties to remain affordable for 30 years, though some states extend the affordability period for even longer. In some instances, owners may eliminate the restrictions after 15 years. 
Given the age of the program, LIHTC properties are for the first time approaching the 30-year mark and the possible end of their affordability restrictions. Some of these properties may be lost from the affordable housing stock because they are in high-demand areas where owners have incentives to raise rents to market rates. The loss of affordability can lead LIHTC tenants to experience rent increases and possibly displacement. Many renters may have to leave their homes and neighborhoods as a result. In other cases, properties may remain affordable because they are in low-demand markets. Yet owners of properties in these markets may lack the resources to reinvest in or renovate the properties, which could make them vulnerable to physical decline.  
The NLIHC research team hopes to learn more about the experiences of tenants in LIHTC properties that reach the end of their affordability restrictions. We plan to identify LIHTC properties recently lost or at risk of being lost from the affordable housing stock and talk to residents of these properties. Our findings will allow us to better understand the impact of housing markets and affordable housing policies on tenants' experiences and needs, enabling us to formulate policy ideas for preserving the housing stability of low-income tenants. 
To share your experience, please email NLIHC's research team at: [email protected]