Alabama Arise, an NLIHC state partner, hosted its annual Legislative Day at the State House in Montgomery, AL, on February 6. The group gathered nearly 200 individuals from across the state to speak with their legislators on poverty-related issues. Alabama Arise's priorities include funding the Alabama Housing Trust Fund and creating an Alabama Public Transportation Trust Fund. Arise's education and advocacy efforts during Legislative Day and throughout the year address poverty-related issues, like the lack of housing and transportation access and affordability for the most vulnerable populations in the state.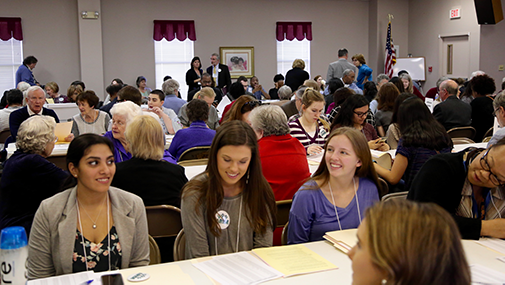 A briefing on the issues at Legislative Day.
Alabama Arise supports passage of HB 273, sponsored by Representative Patricia Todd (D), and SB 242, sponsored by Senator Linda Coleman-Madison (D), which would fund the Alabama Housing Trust Fund by increasing the state mortgage recording fee from 15 cents to 30 cents per $100 of indebtedness. The fee has not been raised since 1935. A strong investment in the Housing Trust Fund would help address Alabama's shortage of affordable homes by allowing municipalities, nonprofits, and other developers to build or rehabilitate homes. Alabama lacks more than 76,000 affordable and available homes for households with extremely low incomes. 
Advocates also promoted the creation of the Alabama Public Transportation Trust Fund. The fund would receive future appropriations for expanding public transit in the state, which would improve economic and housing opportunities for many low income Alabamians.  A news conference on Legislative Day drew statewide media attention to the public transportation plan. Speakers included Kimble Forrister, state coordinator of Alabama Arise, and Senator Rodger Smitherman and Representative Jack Williams, co-sponsors of the legislation that would create the transportation trust fund.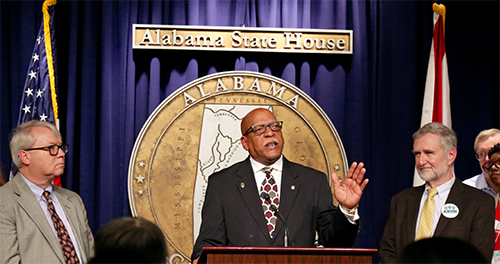 Sen. Rodger Smitherman speaking on public transportation at Alabama Arise's news conference on Legislative Day
Multiple issues in Alabama deepen poverty for low income individuals and affect their ability to meet their basic needs, like housing. Alabama is one of only five states with no state funding for public transportation. That lack of investment makes it difficult or impossible for tens of thousands of low income Alabamians to get to work, which in turn makes paying for housing a great burden. Many who struggle to work because they lack transportation options cannot afford the available rental housing.
Alabama Arise's Legislative Day represented an important opportunity for advocates to engage with elected officials and to make their presence known in the halls of the Alabama Legislature. "Public participation like Legislative Day is vital to effective advocacy," Ms. Forrister said. "When Alabama's legislators looked up into the gallery to see almost 200 people who care about low income people, their eyes widened. Alabama Arise can't compete with the hired lobbyists with money, but with people-power we can compete and win fair policies that give all Alabamians a real chance to succeed."
Click here for more on Alabama Arise's legislative priorities and bills of interest, or contact Alabama Arise Policy Analyst Dev Wakeley at [email protected].