The weekend is for rest, but often for advocates it can be just as much about restlessness – Our Homes, Our Voices National Housing Week of Action organizers spent the weekend raising awareness about urgency of the housing crisis and the need for expanded federal investments to address it. From Memphis, TN, to St. Paul, MN, and beyond, community members came together at speak-outs, barbecues, and celebrations to call for affordable housing solutions. Here are a few highlights from Days 3 & 4 of Week of Action.
Mid-South Peace and Justice Center joined with Homeless Organizing for Power and Equality (H.O.P.E.) in Memphis for an event that featured the lived-experiences of formerly homeless individuals and discussed the need for more affordable housing for such individuals and families. Those in attendance enjoyed some delicious Memphis barbecue!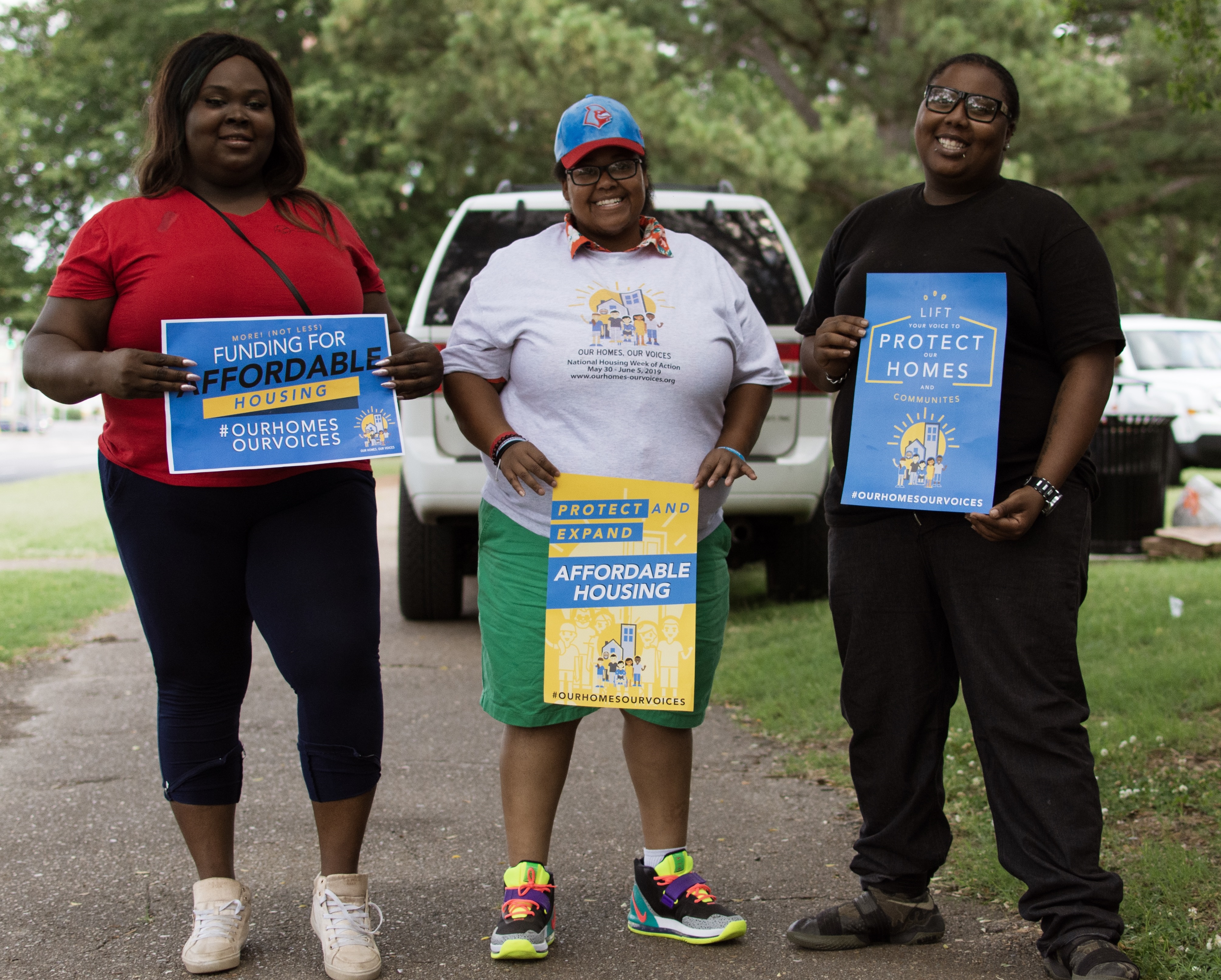 Community Stabilization Project in St. Paul, MN, invited advocates to see some low-income housing first-hand and to kick off a community conversation about expanding tenants' rights.
Earl Hall and Mindy Woods of Resident Action Project staffed a housing affordability information table at the North Sound Progressive People's Summit in Everette, WA, successfully organizing attendees to fill out postcards and take information about the federal budget and state priorities.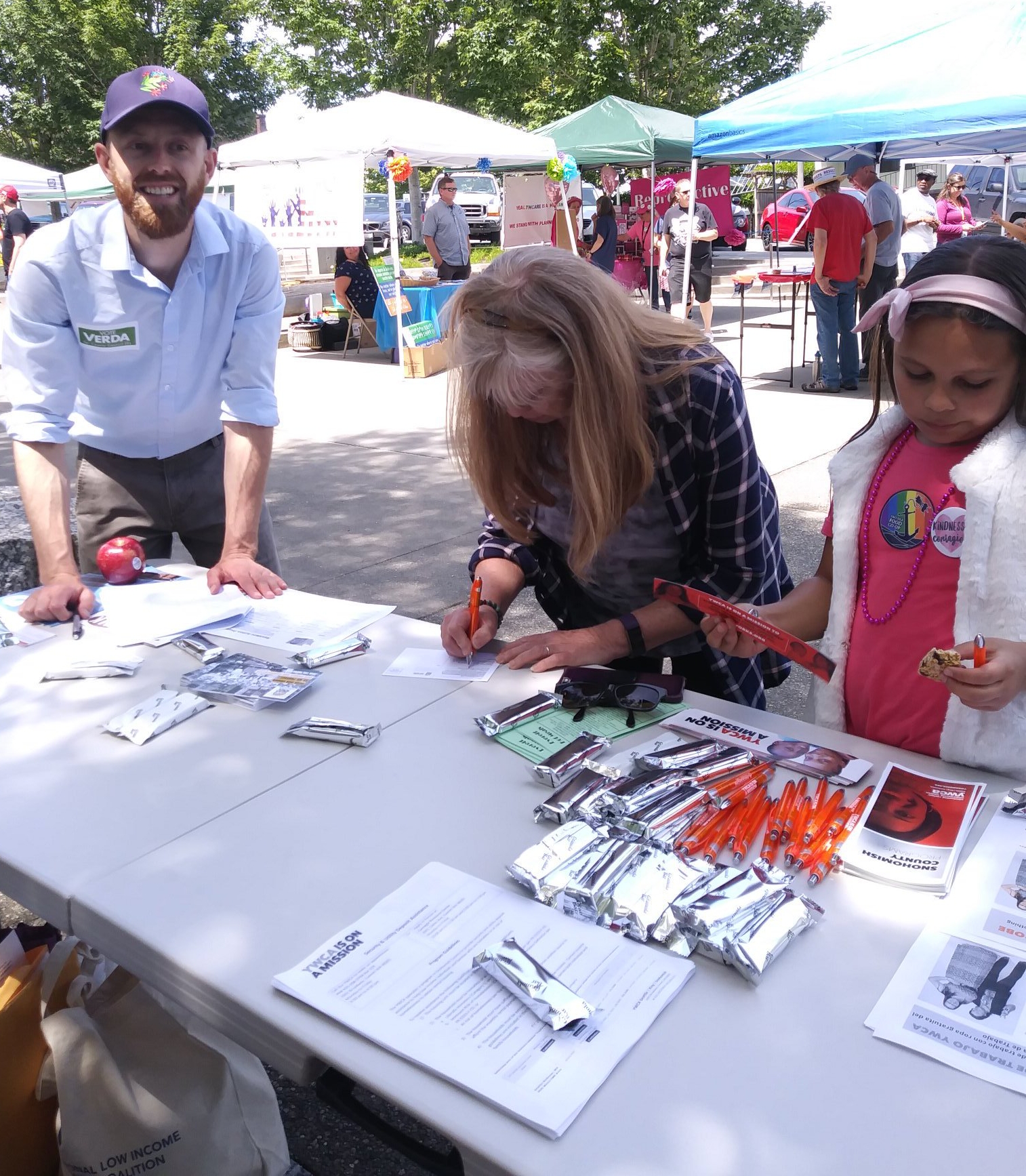 Join the Tweetstorm Tomorrow, June 4, at 2:00!
Advocates throughout the country have been doing a great job amplifying Week of Action by using #OurHomesOurVoices on social media. With Congress returning to session this week, it's time to step up the social media awareness even more. Join a national tweetstorm tomorrow, June 4, from 2:00 to 3:00 p.m. ET and let Congress know that safe, decent, accessible, and affordable homes should be a priority in budget negotiations and any infrastructure package.
The Our Homes, Our Voices website has tools for maximizing the impact of the tweetstorm. If you're thinking of participating in this online mobilization, consider using the sample tweets, infographics, and tips for social media engagement.
Our Homes, Our Voices National Housing Week of Action Events Happening Today, June 3
Topeka, Kansas – Topeka JUMP is holding a press conference to visually demonstrate the magnitude of the affordable housing crisis. Topeka JUMP is tying Week of Action into their efforts to create a local Affordable Housing Trust Fund.
Evanston, Illinois – Connections for the Homeless will be gathering with state legislators and the Joining Forces for Affordable Housing coalition to discuss rental housing as a priority in state-level policy.
Hartford, Connecticut – The Connecticut Housing Coalition will gather at a low-income housing property in Hartford to demonstrate and discuss the importance of affordable homes.
Providence, Rhode Island – Following up on last week's powerful rally at the state capitol, the Housing Network of Rhode Island, Homes IR, and the Rhode Island Coalition for the Homeless will join with Signs of Providence for a screen of their film, Lost in Providence. The film details a family's experience with eviction and homelessness. The screening will be followed by a panel discussion.
Edmonds, Washington – The Resident Action Project will host a public forum that includes the perspectives of low-income housing providers alongside the stories of people who have lived-experience.
Missouri (Lee's Summit, Kansas City) – Phoenix Family is working to mobilize seniors in their properties throughout Missouri, with two events taking place today.
Maryland (Cambridge, Berlin, Annapolis) – Homes for America continues to engage their residents with education, phone banking, and letter-writing sessions throughout the state.
Learn more and get involved at: https://www.ourhomes-ourvoices.org/