The Campaign Trail: Presidential Primary Engagement Recap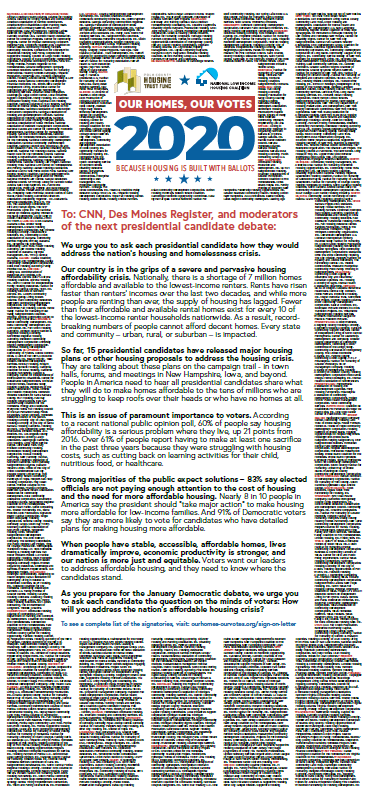 Voters care deeply about solutions to the affordable housing and homelessness crisis, but to make informed voting choices between candidates, they need to know where candidates stand. To inform them, Our Home, Our Votes: 2020, NLIHC's nonpartisan voter and candidate engagement project, has raised the visibility of the affordable housing and homelessness crisis in the 2020 presidential elections. All major candidates released plans to combat the affordable housing crisis—a groundbreaking development for the housing movement. There has also been unprecedented media coverage of the issue.  
NLIHC President and CEO Diane Yentel was quoted in a New York Times article on the unique moment in the movement:  
"To the extent that housing has ever been talked about in previous presidential campaigns, it's almost always been related to middle-class homeownership. This time, it's almost entirely about the housing needs for lowest-income renters and people experiencing homelessness, where the solutions are most needed."
Our Homes, Our Votes: 2020 has engaged in many activities to engage candidates and the media. NLIHC and partners have met with and educated candidates, urging them to put forward comprehensive plans to the crisis; pushed moderators to ask candidates for their solutions; and coordinated with the Congressional Black Caucus Institute as they prepared to host a debate. 
More than 1,000 organizations signed a letter to debate moderators, urging them to ask presidential candidates how they would address the affordable housing crisis. This letter was sent to moderators of each debate in the Democratic presidential primary and was even featured as a full-page advertisement in the Los Angeles Times in December 2019 and in the Des Moines Register in January 2020. The strategy worked. An affordable housing question was asked in the November presidential debate in Atlanta and three candidates—Tom Steyer, Senator Elizabeth Warren (D-MA), and Senator Cory Booker (D-NJ)—answered, with many more hands raised. During the February 25 debate in South Carolina, moderator Major Garrett, host of CBS's 60 Minutes, posed a question submitted through Twitter to Senator Amy Klobuchar (D-MN): "How will your policy address and ensure affordable housing and education equity for minimum wage workers?" All candidates answered the question. Additionally, Senator Bernie Sanders (I-VT) mentioned homelessness and affordable housing in almost all of the debates.  
"An affordable housing question was asked in the November presidential debate "
In partnership with Housing Action NH and Polk County Housing Trust Fund in Iowa, Our Homes, Our Votes engaged candidates in advance of the first-in-the-nation primaries and caucuses in tours, forums, candidate intercepts, and more. See more details at: https://www.ourhomes-ourvotes.org/newhampshire and https://www.ourhomes-ourvotes.org/iowa  
Our Homes, Our Votes: 2020 also organized and participated in a series of events in Los Angeles. Secretary Julian Castro joined NLIHC President & CEO Diane Yentel in a tour of Skid Row followed by a policy conversation about Los Angeles' homelessness crisis. The tour was organized with partners from the Downtown Women's Center, Homeless Health Care Los Angeles, the Inner City Law Center, and Mayors & CEOs for U.S. Housing Investment. Suzette Shaw, a Skid Row resident and activist, led the tour. Representative Beto O'Rourke also participated in a tour of Skid Row at the Downtown Women's Center with Diane and Our Homes, Our Votes: 2020. Senator Amy Klobuchar participated in a tour of an affordable housing facility in Los Angeles and participated in a policy conversation with Our Homes, Our Votes: 2020 and local housing advocates. See more at: https://www.ourhomes-ourvotes.org/the-candidates  
---
Philadelphia disAbilty Services' Your Voices Matter, Your Vote Matters Campaign 
The Philadelphia Department of Behavioral Health and Intellectual disAbility Services' (DBHIDS) Housing and Residential Services Unit has been engaging its residents in electoral activities throughout 2020 through the Your Voices Matter, Your Vote Matters campaign. The campaign was created to engage residents of affordable housing in advocacy work. The director of the Housing and Residential Services Unit, Joyce Sacco, started the campaign because she believes voting is a first step to engage residents in advocacy efforts, and participation in advocacy is critical if residents want their needs met through policy solutions.  
The goal of the Your Vote Matters, Your Voices Matter campaign was to register all interested participants within the DBHIDS Housing and Residential Services Unit to vote in time for the primary election (April 28) and general election and to educate them on how to vote. Progress has been made on both fronts. DBHIDS hosted a voter registration information session w/ NLIHC and Project Home in February with the goal of encouraging housing providers to bring voter engagement activities to their residences. The training was so successful it will be offered to all providers at Community Behavioral Health/DBHIDS programs in mid-September.  
DBHIDS staff have also been attending various voter-registration trainings and voter rights webinars provided by the County Board of Elections. The staff can then relay the information to providers so that providers educate participants on the most up-to-date election information. In addition to attending trainings, DBHIDS staff have been working with Project Home to create a voter registration link to track how many individuals are helped with registration for the 2020 general election. Lastly, staff will have access to iPads so they can easily register voters with minimal exposure and effort. 
Creating a culture of advocacy within DBHIDS Residential and Housing sites is possible by empowering participants to be a part of an electoral process which provides value, self-worth and resiliency. The hope is that these efforts will help DBHIDS identify peer leaders to lead to a discussion on creating a peer-led Housing Advisory Board, storytelling initiatives to highlight the services participants receive, and other peer-led activities.   

​
Clergy Leaders Register Voters and Meet with Candidates in New Hampshire 
The Granite State Organizing Project (GSOP) builds power necessary to create lasting social and economic justice in New Hampshire, mostly in the south-central part of the state. One way the project accomplishes this goal is by organizing voter education and registration initiatives and get-out-the-vote campaigns. The project has always worked with its members, including clergy, in engaging low-income renters, but this year its strategies have shifted due to COVID-19. 
As in years past, GSOP has encouraged member congregations to commit to be 100% voting congregations. This year, GSOP is working with clergy to match their congregation lists with voter lists to see who needs to register or update registrations. The clergy then ask congregation members to make the necessary changes to become registered voters.  
One challenge the project has faced is that volunteer leaders have steep learning curves around using technology for outreach and engagement efforts. GSOP has learned to be creative in encouraging members to participate in voter engagement efforts, providing online trainings, texting technology platforms, and social media tools. 
GSOP has also organized candidate events. The group held meetings with presidential and gubernatorial candidates and will be hosting a meeting with Senator Jeanne Shaheen's (D) opponent Corky Messner (R) in September.  Faith leaders will discuss the impact of COVID-19 on members of their congregation, about housing needs and economic security issues, and about what they are doing to address the needs. Conversations with candidates on housing and poverty issues are critical in holding leaders accountable. 
---

​
"Candidates don't care about people like me." 
"I've never voted before." 
"Candidates should come down to the shelter and talk to people so they understand what we're going through." 
"Getting registered to vote is the last priority for someone who is just trying to get housing." 
"I wish they knew that we just want a second chance." 
We're recording staff and residents at the renovated Swayze Court Apartments, a permanent supportive housing complex developed by Communities First, Inc. near downtown Flint, Michigan. This is part of a video on the 2020 election being produced by our organization, the Michigan Coalition Against Homelessness with our homeless response system. We're supposed to be capturing excited, energized people ready to march down to their polling station once early voting starts on Sept 24 to cast their ballot with what we feel is an undeniable American right.  
Only, that's not what we keep hearing. It was the same last month in Pontiac, Michigan at the Hope Warming Center, the low-barrier shelter in the affluent Oakland County. Folks look into our camera again and again and report that they feel as though their elected officials have forgotten about them. 
The Michigan Coalition Against Homelessness began our first foray into election work shortly before COVID-19 hit with the goal of educating homeless and housing insecure individuals seeking support from one of the state's 600+ service providers. We wanted to make sure they were informed about the new state election laws that gave them automatic voter registration when they received their state ID, or that they could now request an absentee ballot for any reason, or that they could even register to vote on election day at their polling place. We created posters and started calling shelters. When the state shut down in late March, we postponed our efforts – recognizing that our shelters had far more important and life-saving work to be doing during a global pandemic. 
We thought COVID-19 would be our biggest challenge in our election work, but were hopeful that we'd come back strong with voter registration drives and presentations of our voter education materials. We knew that individuals experiencing homelessness were historically less likely to vote. We also knew that these voices – those who have been rejected and denied something as basic and human as their own home – were crucial for our elected officials to hear. We thought that all we needed to do was a little education to convince our folks to get out the vote.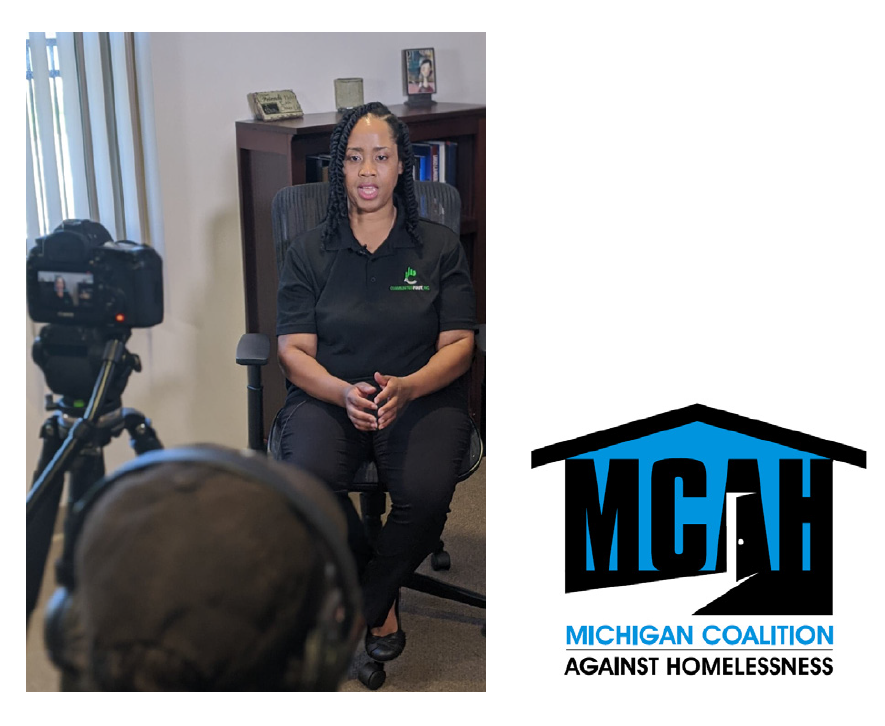 ​
We were wrong. 
As we started doing our interviews for a video that we hoped to share with candidates and homeless service providers across our state, we began to learn that voting has never been something our interviewees felt was their right. They expressed that candidates didn't care about them, that the system would never be fixed to give people that second chance they needed to be successful.  
But as the interviews continued, something amazing happened. 
"We need to vote, because it's the only way things are going to change" 
"If enough of us vote then we'll have strength in numbers, and then we can elect people who have to listen" 
"I've never voted before. But I'm voting this year." 
Hope, in the middle of a pandemic that has made employment and housing even harder to access. People who shared their stories of abuse and illness and being completely alone with nowhere to go were looking into our camera and telling their peers that they needed to vote. They want to reach out to the candidates and call them into their communities so that they could see how much we need housing and supportive services. They want democracy to stay true to its promise to serve all of its people. 
This is the first year that our organization has done election work, but it won't be the last. We sought out inspirational stories for a video to share with service providers and candidates, and we instead found ourselves moved to action.  
We'll be back next election year, fighting for those who have felt disenfranchised or excluded from the democratic process to have their voices heard.