Maine Governor Janet Mills signed into law on February 12, a bipartisan bill (L.D. 1645) sponsored by House Assistant Majority Leader Ryan Fecteau that will create a new state affordable housing tax credit program. The Maine Affordable Housing Tax Credit Program will create 1,000 new affordable homes over eight years, increasing the state's current production rate by 50%, while also preserving more than 500 units of rural housing at risk of losing affordability restrictions.
The state has committed to investing $10 million per year to preserve and create homes for low-income families, seniors, and rural households.  The Maine Affordable Housing Coalition (MAHC), an NLIHC state partner, worked closely with a bipartisan group of cosponsors to ensure the program would adequately meet the needs of low-income renters across the state.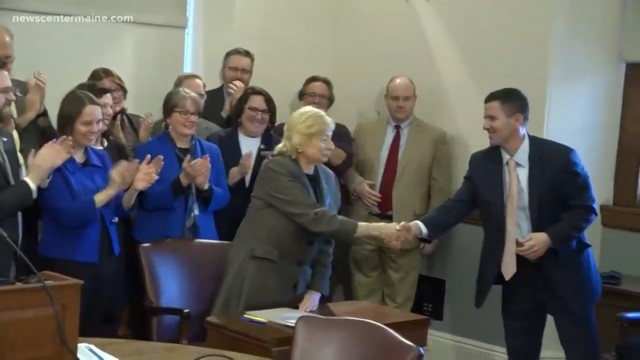 Maine Governor Janet Mills and MAHC Greg Payne at signing ceremony for L.D. 1645
More than 35,000 renter households in Maine are severely housing cost-burdened, and tens of thousands of residents are on waiting lists for affordable homes. Maine is also at risk of losing up to 2,500 affordable homes that were originally financed by USDA Rural Development under the Section 515 program. Roughly 10% of the tax credit program will be used to help transfer these at-risk affordable units to nonprofit owners who will maintain their existing affordability restrictions for another 20 years. 
The Maine Affordable Housing Tax Credit Program is modeled on the state's successful historic rehabilitation tax credit. It will allow individuals and/or corporations to invest in the development or preservation of affordable housing in return for state income tax credits. The investment dollars provided to a project will fund 30% of the overall construction cost and allow a project to gain an equal amount of federal Low Income Housing Tax Credits (LIHTCs). At least 30% of the tax credits will be targeted to senior housing and at least 20% will be targeted to rural communities.
The Maine State Housing Authority will administer the program and will provide incentives to ensure that at least 20% or four units, whichever is greater, are reserved for people with disabilities, survivors of domestic violence, or people who have experienced chronic homelessness. The new housing units will carry affordability restrictions of a minimum 45 years.
At the bill signing ceremony, Governor Mills reiterated her commitment to increasing the number of affordable homes in Maine: "The goal of ensuring that Maine people have a safe place to rest their head at night, a place where they can take care of their family, get ready for work, and live with dignity and comfort is at the heart of our administration. With this program, I hope we can now say to thousands more Maine people, 'welcome home.'"
"Maine legislators deserve a lot of credit for their bipartisanship in responding to what has become an enormous problem for tens of thousands of people across the state," said Greg Payne, director of the Maine Affordable Housing Coalition. "This is the largest investment that the state of Maine has ever made in affordable housing development, and its unanimous passage through both the House and Senate speaks volumes about the depth of our housing needs."
Information about the Maine Affordable Housing Coalition is at: www.mainehousingcoalition.org